It isn't rare to come across a custom bike with a paint scheme inspired by an article of popular culture. There is a lot of popular culture and even subculture in today's world. You can take your pick from any corner of what's popular in today's stage, screen, web, or broadcast platforms.

However, every once in a while, something stands out and makes you pay attention. It's the proper combination of subject matter, canvas, and execution.
Antonio Robinson's 2003 Suzuki Hayabusa is an example of such an excellent combination. Dressed in a remarkable tribute to Marvel's Black Panther film, the bike becomes a rolling homage to what is considered to be one of the greatest superhero comic book movies of all time.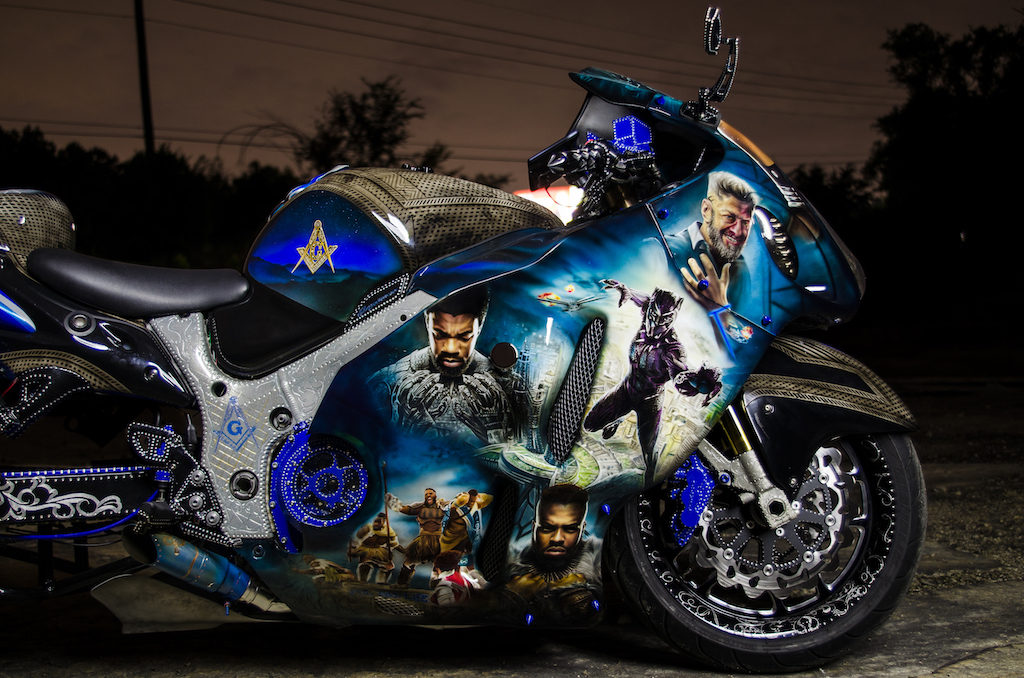 From every angle, the bike showcases a character from the movie, captured in a vital scene as if they are movie stills. The artistic depiction of T'Challa, Killmonger, Shuri, M'Baku, Klaw, and others, is spot on target. Most notable is the placement of the characters. Shuri leads the charge as she adorns the front cowl and windscreen. As impressive and captivating as the artwork is, the overall presentation does not end there.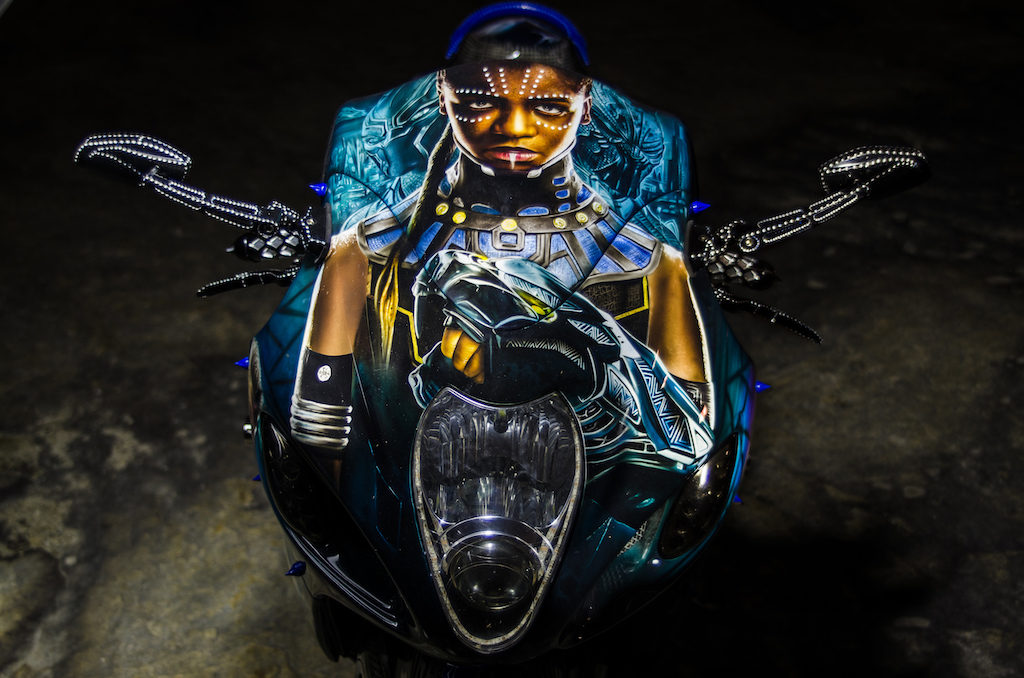 Inspecting the swingarm, wheels, and frame, I find the detailed engraving unexpected but much welcomed. It's a pleasant surprise on the eyes, offering a contrast that states that the bike's design did not stop at the paint job. Details in the rearsets, grips, mirrors, and levers continue the concept, carrying the visual display throughout the presentation. To bring things full circle, the installation of the multi-colored light kit elevates the build several notches north.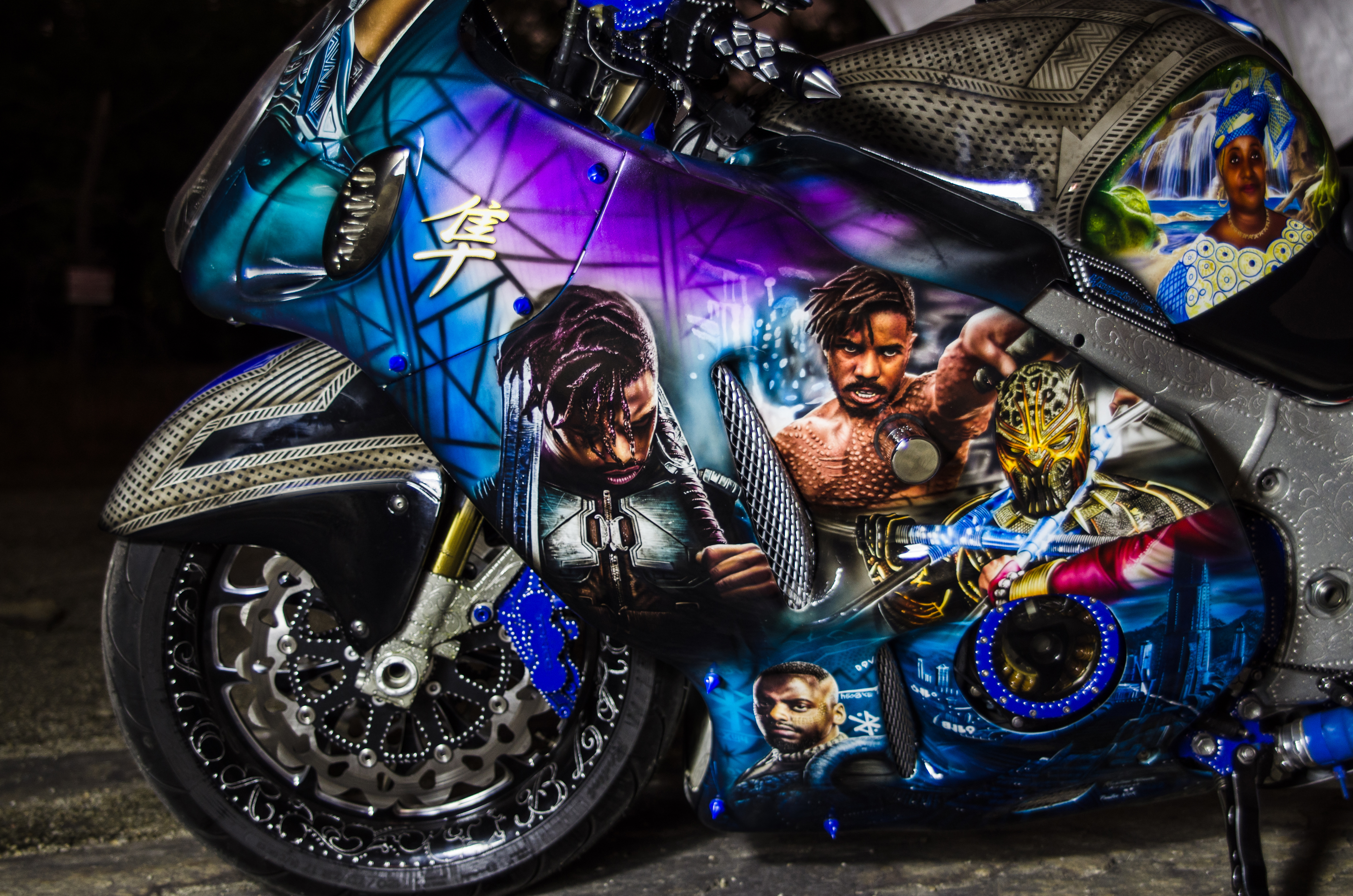 Antonio, who completed the build with the components from several partners, makes no qualms about his ride's point of inspiration. "My inspiration behind the bike was my love for Marvel. My idea to create the Black Panther bike came to me before the movie came out! I wanted to be different and knew the story of this superhero would be phenomenal. I challenged myself to create a one of a kind representation of King T'Challa, Shuri, and the advanced technology the Kingdom of Wakanda produced."
---
BIKE NAME: Black Panther
BASE MAKE/MODEL/YEAR: 2003 Suzuki Hayabusa
ENGINE POWER UPGRADES: PVC/ECU Flash for fuel regularity
BRAKES: OEM dual front brakes, with a Gen2 front brake modification for the rear setup to increase stopping power
EXHAUST: Dual non-baffle shorty pipes on a four-to-one system with headers ceramic coated by Miller powder coating
WHEELS: Custom wheels, cut by Elite Custom Machine
TIRES: Avon tire, 330mm rear
SUSPENSION: Platinum Air Rides Bleed-Feed system with remote control by Mike Ferris
SWINGARM: Elite Custom Machine 330mm (300 sprocket side/360 rotor side) 14 inches over stock with a solid welded jackshaft and boxed sprocket cover
BUILT BY: Antonio Robinson of Robinson Customs Inc. Atlanta
PAINT BY: Kustom_Mindz "Mixologist" Robert Riveria
OWNER: Antonio Robinson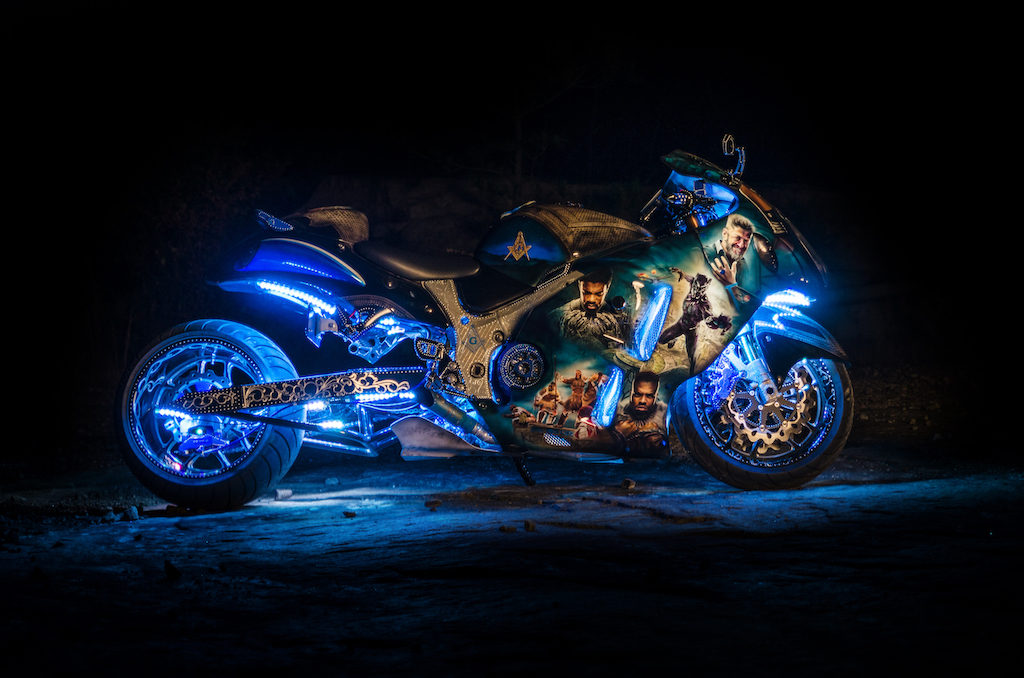 Images: Taz Man
---