---

---
True art will always survive any trend or exploitative period of time in which popular culture decrees it the "in thing". True artists will always persevere while maintaining their sense of self-worth and core values: no sell-out and no bitchassness. The motorcycles produced by these artists transform the vehicles into functioning sculptures. The bikes function as art and as modes of transportation. The history and legacy of the art of customization must be acknowledged and preserved. Enter the Japanese bike artist Kimihiko Tsuzuki of Still Rollin' Model Art. More specifically, enter his masterpiece, Amatista Loca. Translated, it means "Crazy Amethyst" which is in reference to the bike's mesmerizing amethyst color scheme that mimics the visual properties of the stone of the same name. The "crazy" can be attributed to the beyond wild appearance and presentation of this 2005 custom Kawasaki ZX10R.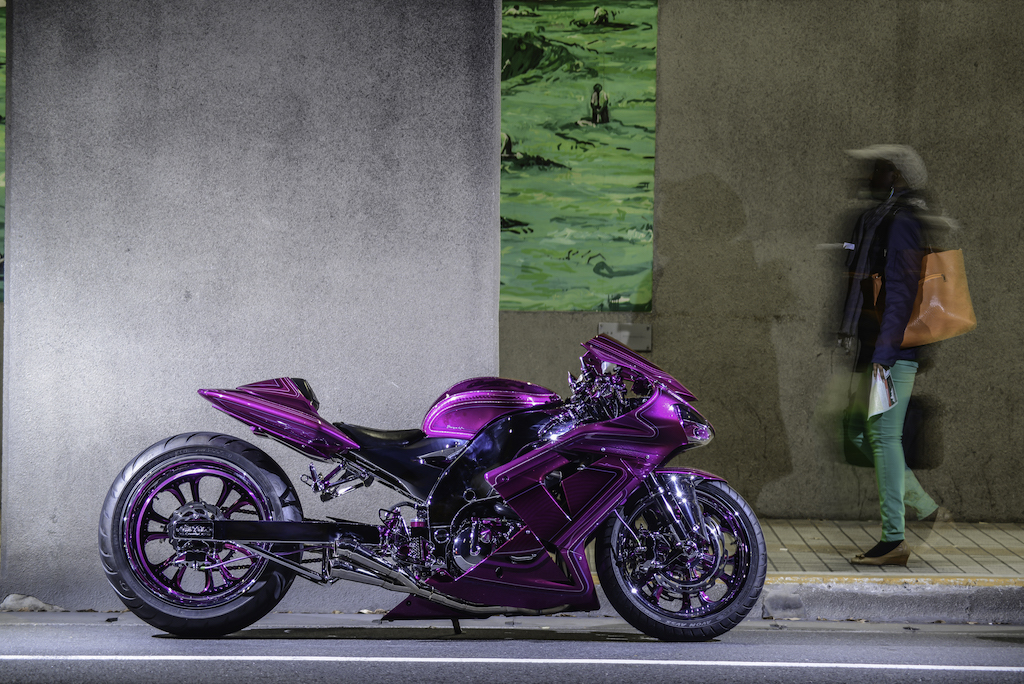 The Amatista Loca finds its inspiration in the West Coast Low Rider car scene. Kimihiko proudly admits his fascination and influence with the US custom car and bike scene and gives much praise to his good friend and fellow bike artist, Carlos Navarro. From the design and application of the pinstriping to the custom leather stamped seat, the bike does more than tip its hat at American culture.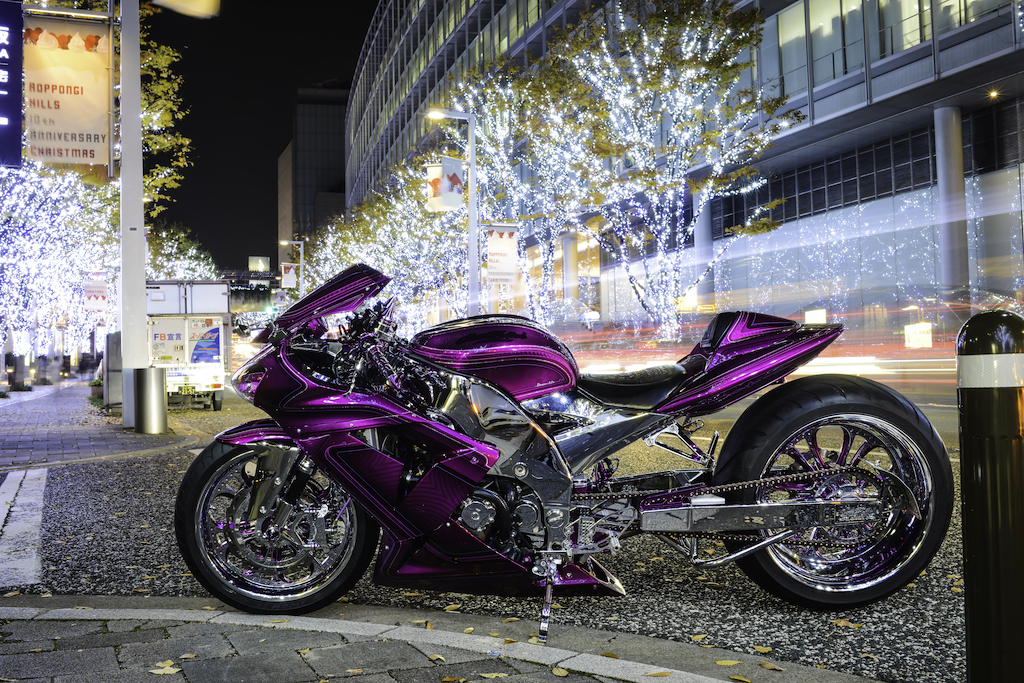 You have to step back and observe the bike in the round. You have to orbit the bike, revolve around it and take your time. The details reach out to you and pull you in. The offsetting purple in the brake calipers, cylinders and grips play well against the completely chromed out chassis that visually keeps the eyes moving from the front to the back and over the tank, cowl, and fairings. There is not a piece of this bikes' body that has not been touched and that includes the return spring on the side stand.
Kimihiko made it clear that by no means is Amatista Loca meant to be a trailered and parked show bike. Amatista can frequently be seen rolling around the streets of Tokyo, catching eyes and turning heads. The Myrtle West 300 rear tire kit that sustains the contrasting RC Components Czar wheels give a sense of grounding but reflect light in such a manner that the bike appears to maintain motion while standing still.
---
---
The brilliant paint job lends toward the "in motion" theory as the lines of the ZX10R are precisely complemented in a flowing transition and offers an odd side effect. If you look at one portion of the bike, it gives the impression that the entire is moving. However, if your eyes begin to move over the bike, investigating all of the details and moments, they will keep moving as they look for and find more to observe. That is what makes Amatista Loca a success. It possesses an abundance of stimulation with a stark absence of monotony.
BIKE NAME: Amatista Loca
BASE MAKE/MODEL/YEAR: 2010 Kawasaki ZX10R
ENGINE/POWER UPGRADES: K&N air filter, NGK Iridium spark plugs
BRAKES: RC Components rotors with chromed calipers
EXHAUST: Full custom pipe with Laser GP canisters
WHEELS: Czar RC Components
TIRES: AVON
SUSPENSION: AIRFX air ride with instant up kit
SWINGARM: Myrtle West 300 swingarm, 10 inches over
CUSTOM/ONE OFF ACCESSORIES: Fully chromed chassis and candy contrast, in-house hand sanding, hand-polished smoothing works and candy coated, custom leather seats by Mauricio Aguilar at Azteca Customs
BUILT BY: Kimihiko Tsuzuki at StillRollin'modellart
PAINT BY: Base paint and finish work by Kimihiko Tsuzuki at StillRollin'modellart, Graphic work by Steve Deman at Kolor kings
OWNER: Norifumi Narita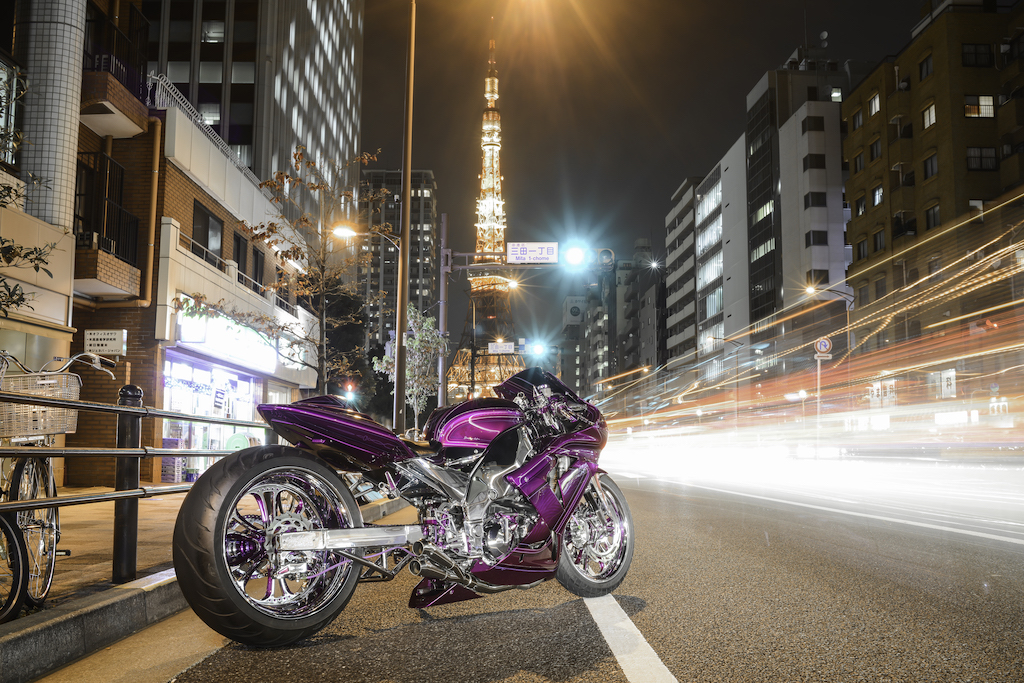 Images: Ryo Kaneta
---