---

---
Let's face it, most men secretly want to be Sports Stars. We constantly watch a sporting event and quietly say to ourselves, "I can do that!" Or the famous, "I still got it!" However, rarely do we feel the agony that these gladiators go through. Three sporting events come to mind where I felt that agony.
Ali versus Frazier 3, "The Thrilla in Manila."
The 1999 Stanley Cup Triple Overtime Thriller.
MotoGP, July 26, 2020, at Jerez, Spain.
These were sporting events you felt deep in your soul. "Hell Hot" was one description of Jerez. One look at Tetsuta Nagashima being helped off his bike and virtually collapsing in a chair in his garage after the Moto2 race let me know what these two-wheeled warriors were dealing with.
Track temperatures reached a scorching 149 degrees Fahrenheit! That's fry an egg on a sidewalk hot, with literal hot cakes! This would be a war of attrition between man and machine. The Andalucia GP, or Jerez II, had many similarities to race one, with Fabio and Vinales on Pole. Newcomer Pecco Bagnaia would occupy the spot of Marc Marquez as the Alien of all Aliens decided to let his injured broken arm heal before deciding to race again. But this race wasn't without its walking wounded. The injury report for MotoGP sounds like a week nine NFL report. Alex Rins, fractured shoulder. Cal Crutchlow, broken scaphoid. Andreas Dovizioso, broken collarbone. And of course, the aforementioned Marquez. These are the humans on the scrap heap. The machines would be next and ultimately the dagger in a racers dream finish. Overcoming an injury and riding is one-thing. A mechanical failure always spells doom. But I'm getting ahead of myself.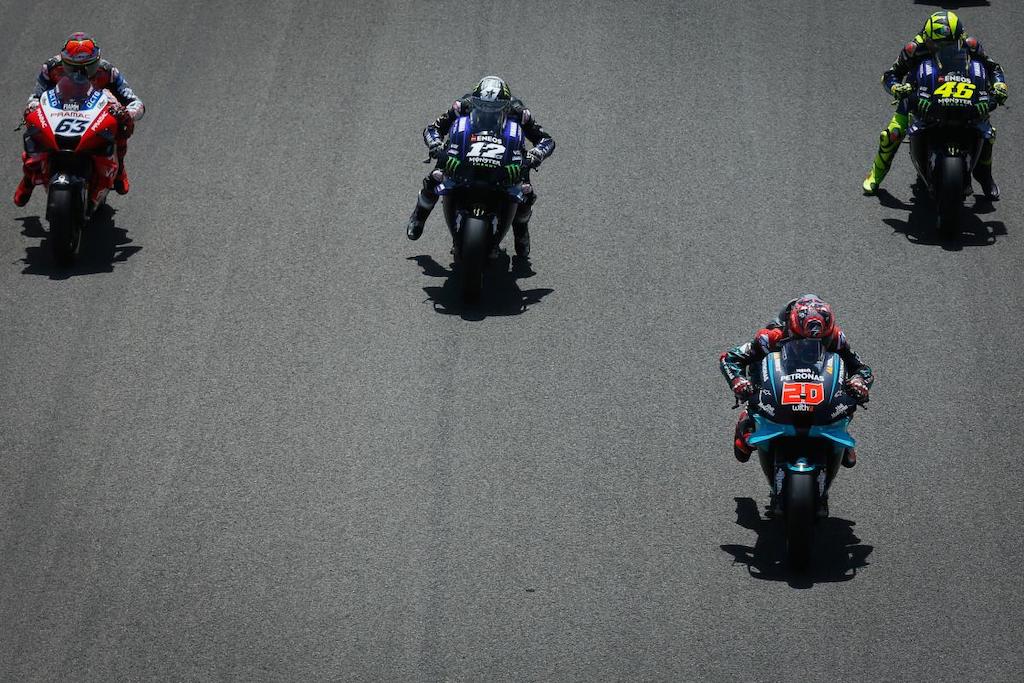 At the start of the race, it was the Yamaha holeshot device working better than anything on this Earth at this moment in time. All three Yammies got off to a terrific start with Fabio getting the holeshot and checking out like a bad marriage. He was never seriously threatened after this, which left Rossi, Vinales, and a slew of oncomers to challenge for the podium.
It's apropos that Valentino Rossi had a helmet featuring the car from the film, "The Blues Brothers" on the side because it felt like he was on a mission from God! All comers were either dispatched by mechanical or faults of their own volition.
Franko Morbidelli looked set to catch the Doctor when engine troubles failed him. It was Pecco Bagnaia whose fate seemed the cruelest. With an almost certain second place in the bag and six laps from the finish, Bagnaia's Ducati spewed more smoke than a barbeque in Alabama. He was done. This left Vinales and Rossi to fight for second and third with a distant but close enough Takaaki Nakagami to pick up the pieces if it went wrong for one of the two.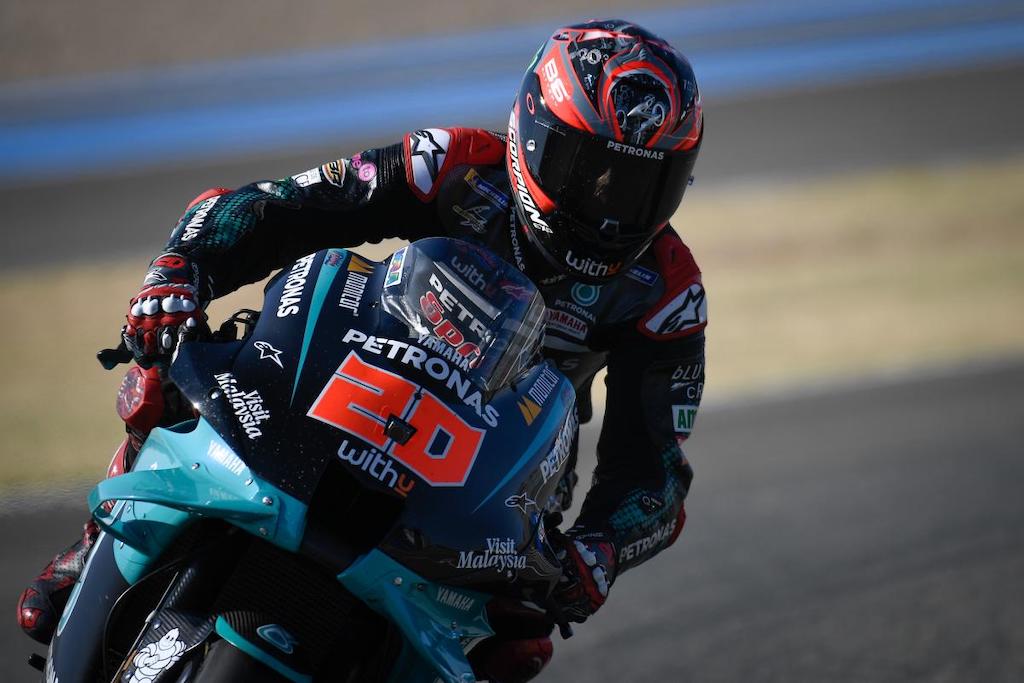 Only Michael Jordan and the 1986 Chicago Bears have played better defense than what Valentino Rossi did on this blistery day in Spain. He held off Maverick and showed the world there is still plenty of fight left in this 41-year-old. Then, through a mistake of his own doing, Rossi allowed Vinales to pass with one lap left and claimed his first podium in well over a year.
Even though I have written about the need for Rossi to retire, he alluded to the politics in the garage and how the balance of the bike is not suited to his liking. Reading between the lines, Yamaha has set the bike up for Vinales and Quartararo. But being the veteran that he is, Rossi found a way to make the bike work for him this afternoon. It will be interesting to see how Yamaha moves forward.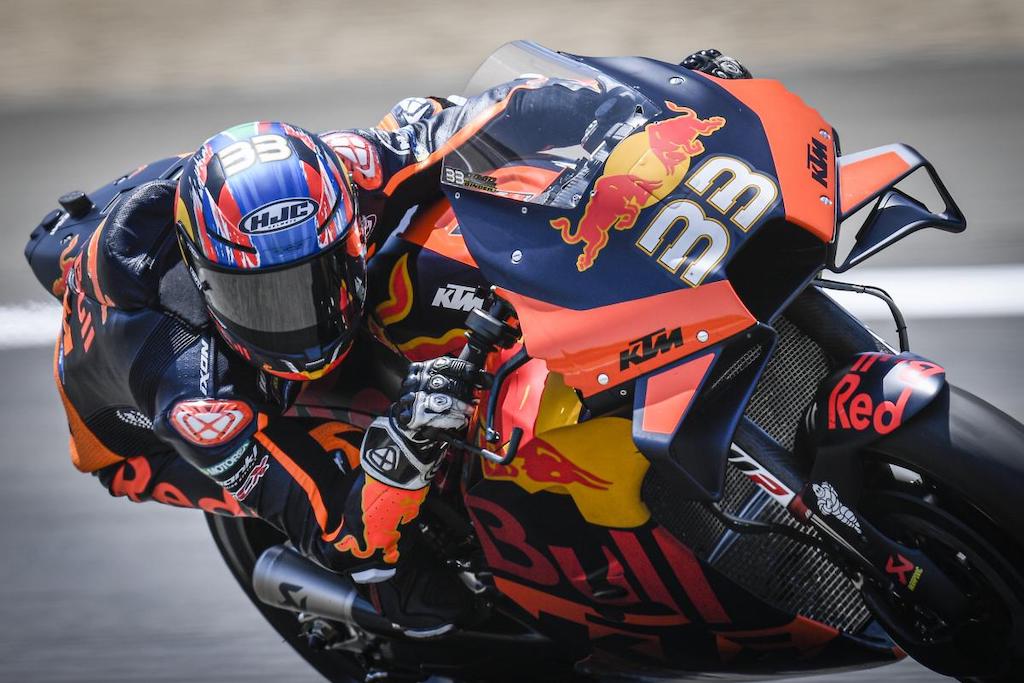 This race was one of the few races where I felt the heat and I damn sure witnessed the carnage. This race destroyed more men than the Kardashian's during an NBA All-Star Weekend. Brad Bender decimating the KTMs with an opening lap crash with teammate Miguel Oliveira and then later doing his best Marc Marquez impression by high-siding and then being run over by his own bike.
The Ducatis sent six bikes into battle and finished with only three. This race was brutal, in every sense of the word. Seeing that look of utter exhaustion by the riders after the race only further drove home the point. This is why the ride by Rossi proves that he's not lost the will to win. In sweltering conditions, the 41-year-old looked every bit as poised as any rider on the grid, maybe even more. I thought the heat would do him in but I was wrong.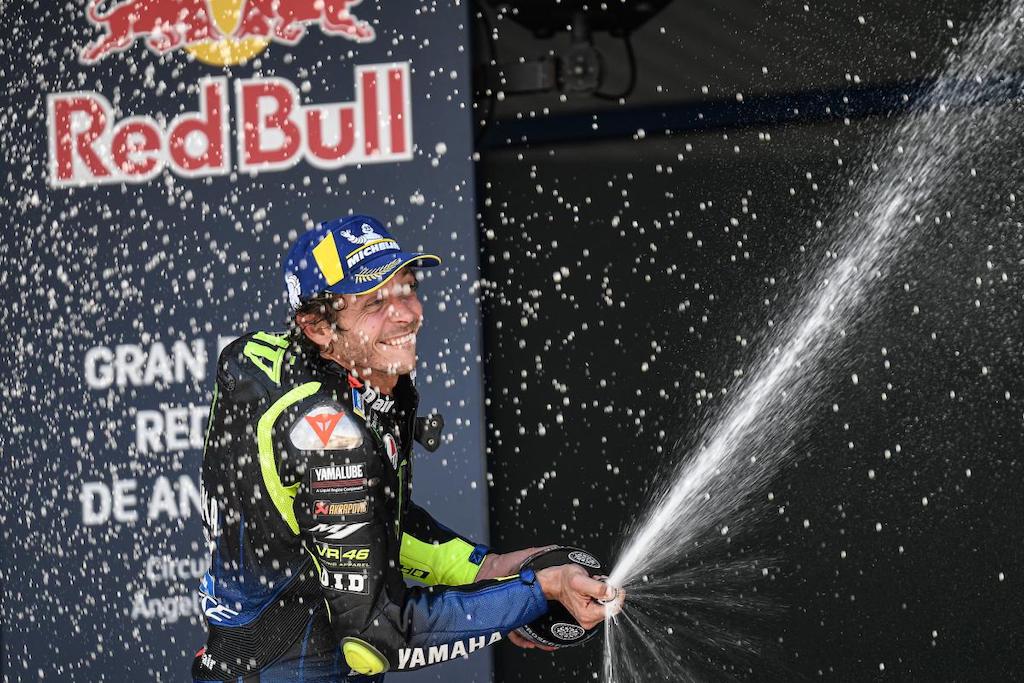 What's next? The Brno Circuit in the Czech Republic. Hopefully, it will be cooler than the Hellish conditions in Jerez. It will be the return of the Champ, down "fiddy" points to Quartararo. You're going to have a desperate Marquez. There will be a Yamaha that's great off the line but its engine has about as much reliability as a truthful Lance Armstrong deposition. And last but not least, you have the cool, calm, serial killer approach of Andreas Dovizioso, who didn't hemorrhage as much from a track that he's never performed particularly well.
This series is heating up more than a 3 pm race at the Jerez Angel Nieto Circuit in July. With only 11 more races to go, every point and position is crucial. We can only hope that we are spared the cruelty of another Jerez bloodbath. To put it bluntly, that race was Hell. But a 9 times World Champion, by the name of Valentino Rossi, proved that on this particular Sunday afternoon, as AC/DC once sang, Hell ain't a bad place to be!
---