You don't know anything about drag racing. No matter how much you've done on the streets or the track or even in your dreams… You don't know anything about drag racing. Once you accept this as fact, it can begin… – "Rickey Gadson Drag Racing School – A Higher Learning" originally published in SportBikes Inc Magazine, September 2012.
I've known Rickey Gadson for a number of years. He's a regular contributor to the magazine. We have worked together and have hung out socially. I have a tremendous amount of respect for him as a person and a rider. Top that off with the fact that he will forevermore be the reigning nine-time AMA Dragbike Champion. Some would be tempted to bow their head in his presence. The reality is, regardless of his accolades and the respect that he's earned on the streets and on the track, Rickey remains that big homie from Philadelphia… That cool dude from just up the block. No ego. No airs. And no nonsense. He's approachable, relatable and has an incredible passion for the motorcycle industry. Not just as an influencer. But as an enthusiast.
So if ever there was someone, a teacher, a Sensei that made himself available to share his knowledge… You would have to be missing a few teeth from the sprocket to not jump at the opportunity to learn from them. Rickey Gadson is that Sensei.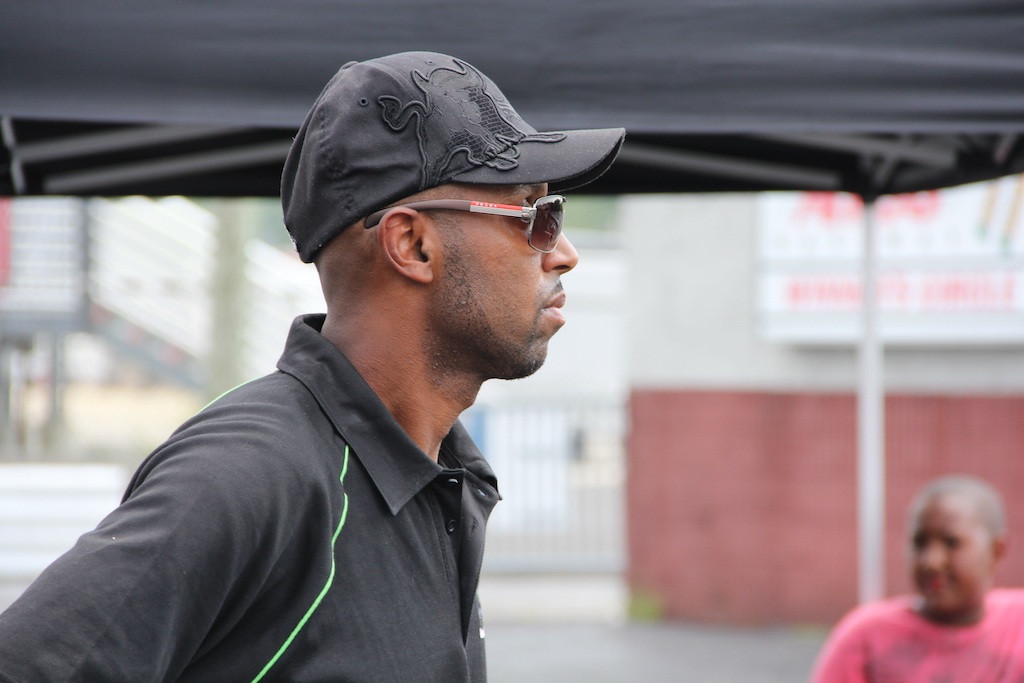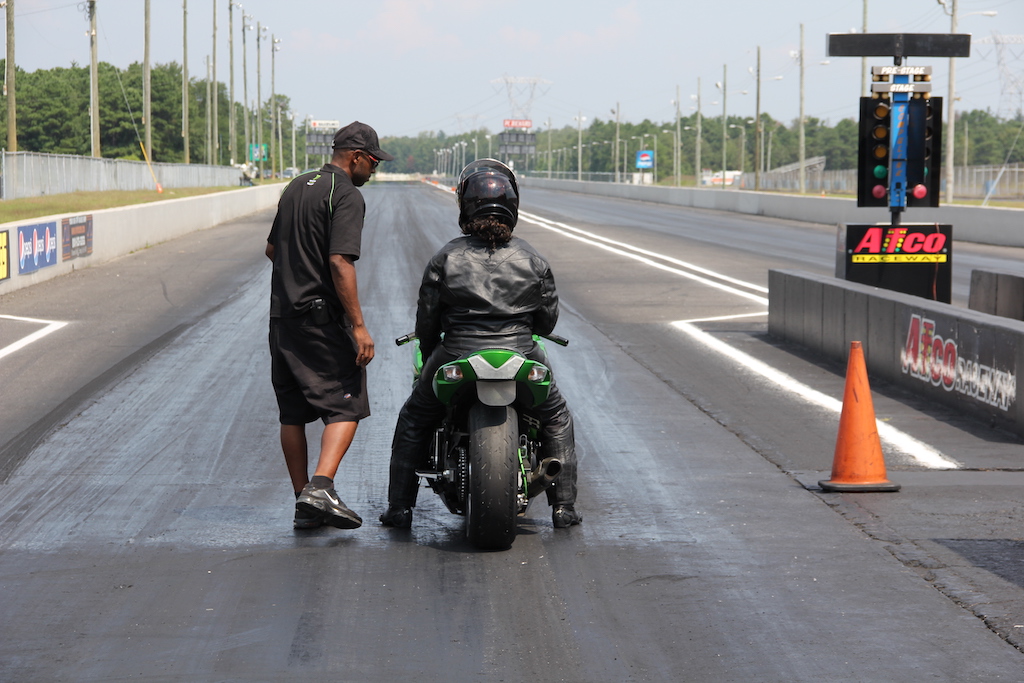 Gadson's Drag Race School is a one of a kind experience. Even if there are other drag race schools in existence, none could compare because they don't have Gadson at the head of the class. Assisted by his wife Kiana, Gadson's program is a well-oiled system that promotes rider safety and knowledge. Think back and try to remember the coolest teacher that you had in school. In the presence of Rickey Gadson, their cool would be only a tepid lukewarm. He could teach thermonuclear propulsion, advanced algebraic arithmetic and the art of watching paint dry… all at the same time… And it would still be the coolest class ever!
When you are learning from the best, it is to be expected that your tools will be nothing less. The class comes equipped with 2012 Kawasaki ZX-12Rs, set up with Gadson's personal-pro requirements. The bikes are dropped and stretched to Gadson's specification. Each bike is dialed in with Brock's Performance Full Exhaust Systems, Ohlins Drag Racing Rear Shocks, Roaring Toyz Swingarm Extensions and a few other components. Gadson sets the Traction Control on the bikes. This is vital in the learning process as it removes the risk of the bike getting away from you. With one less thing to think about, your focus remains on the task at hand.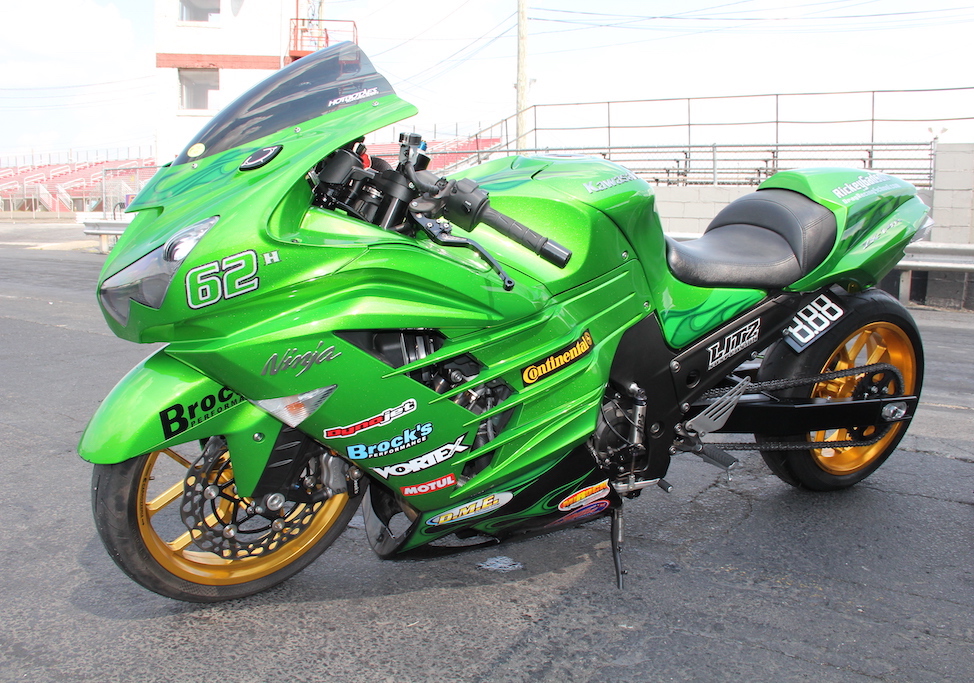 Possibly the most important thing that I learned over the course of the class was quite simply to trust Rickey Gadson. There is a reason why he is where he is. He's got to be doing something right.
As a teacher, Gadson's passion for seeing his students do well is evident from the classroom. In the classroom, the students are taught the fundamentals before even throwing a leg over the bikes. We read through the provided workbooks as a class. Getting to know one another and becoming comfortable with the operations and procedures of running a successful pass down the quarter-mile of track at ATCO Speedway in New Jersey. Gadson not only relied on his own experiences, but he also showed us videos of prior classes and runs. We were briefed on what works and what did not, mentally and visually.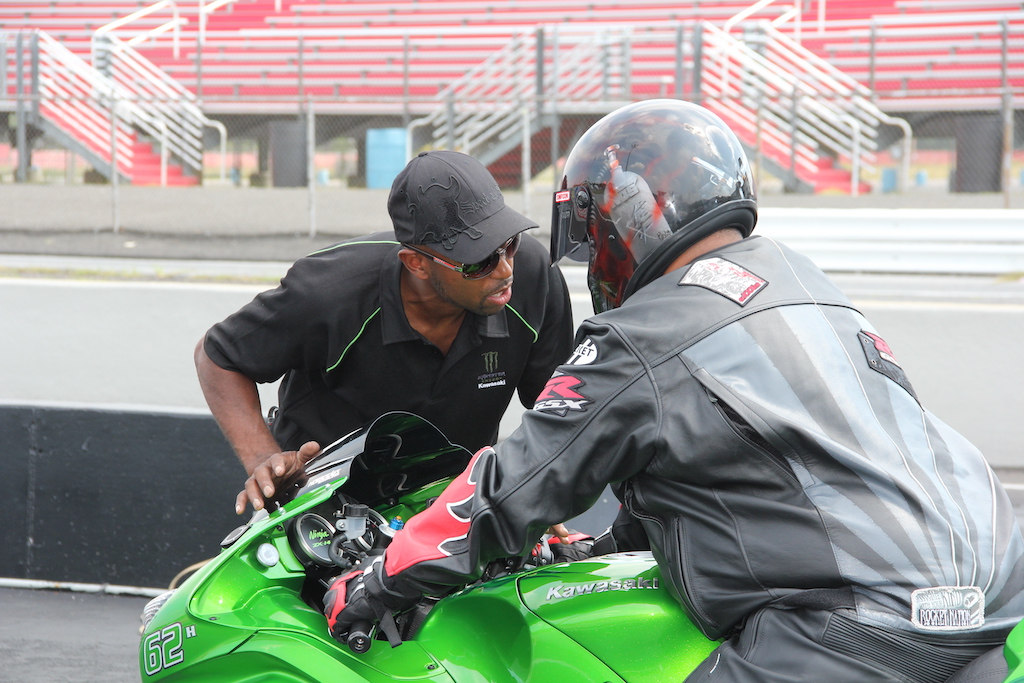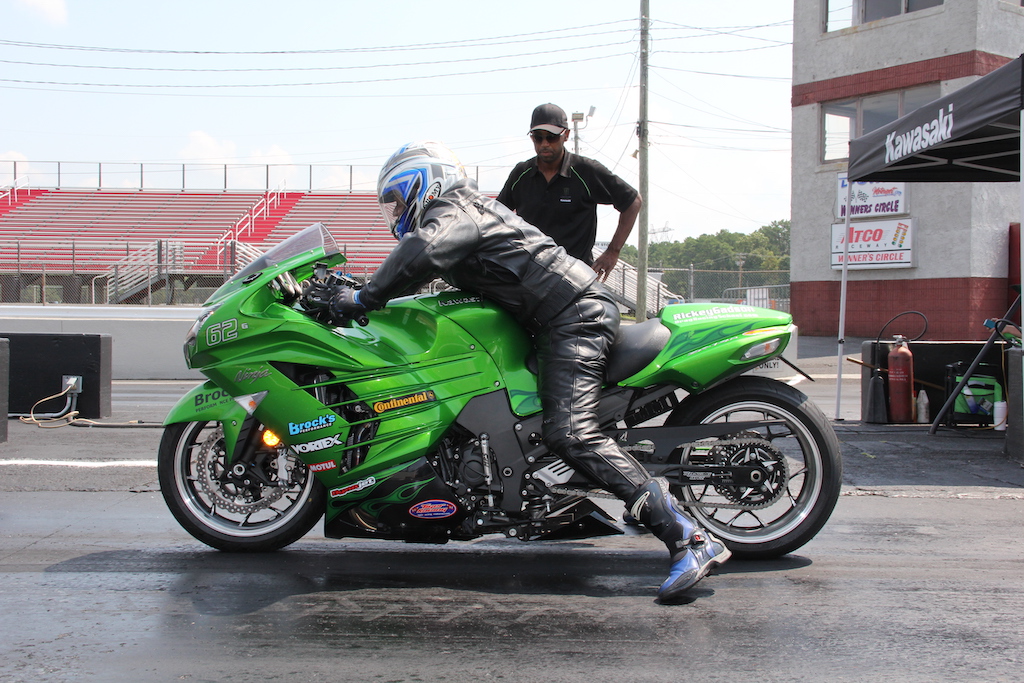 It wasn't long before we were suiting up and heading over to the bikes. I was more impressed with Gadson's teaching abilities on track than in the classroom. This was his element, his world, universe… He suited up with his students and completed several passes, showing us what we needed to do and how we needed to do it.
I need to mention here that this class is not just about going fast. This school prepares you for the entire experience of drag racing. The elements of burning out the back tire, elbow position, grip, clutch control, holding your RPM's, pre-staging, staging, the tree, launching… Everything is considered and examined. This school is about making you a better rider using the skill set engineered by a Master Drag Racer. Period.
My first official pass down the quarter-mile was a 9.71. While I'm not ready to head over to MIRock and start hurting people's feelings, I am an example of what a proper education can produce. I was consistently in the nines for the duration of the class.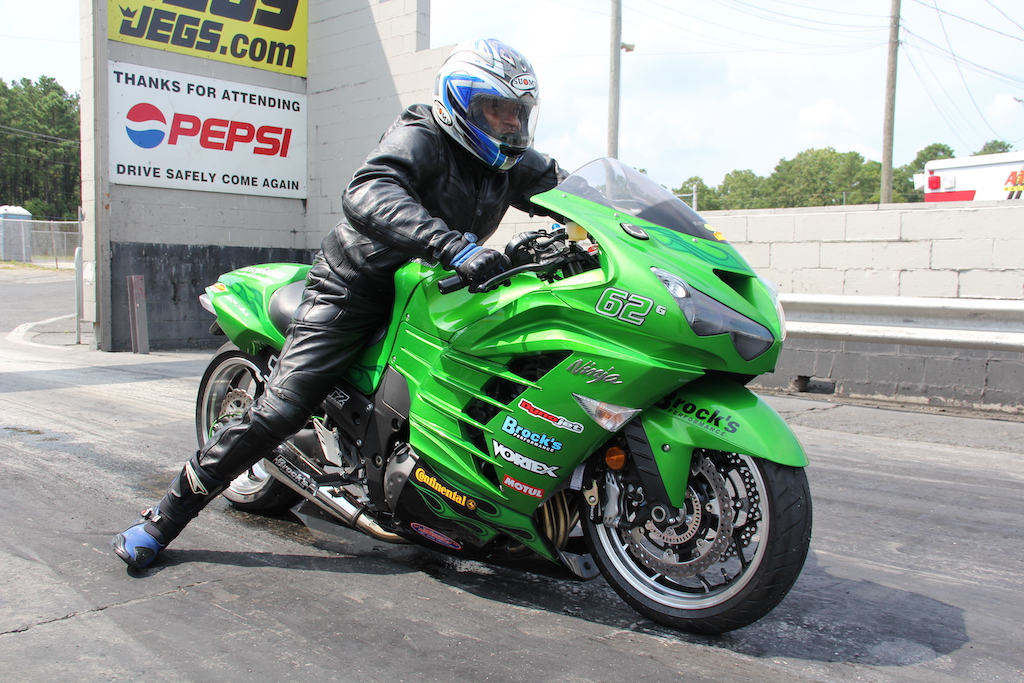 My classmates were from all over. Nelli Nelson, a young woman from Texas. George Thompson from Massachusetts. Gavin Cromwell from Maryland and my older brother, Greg from Philadelphia. It was Greg that taught me how to ride in the first place, so this class was a special moment to share with my big brother.
---
---
Gadson watched with enthusiasm as we progressed throughout the three-day school. Each one of us had bad habits to drop as well as other skills to refine. But when it was said and done, it was Gavin's run that made Gadson leap for joy. I'm talking fisting pumping, feet in the air… leap for joy. Gavin had been chasing the eight-second pass for quite some time.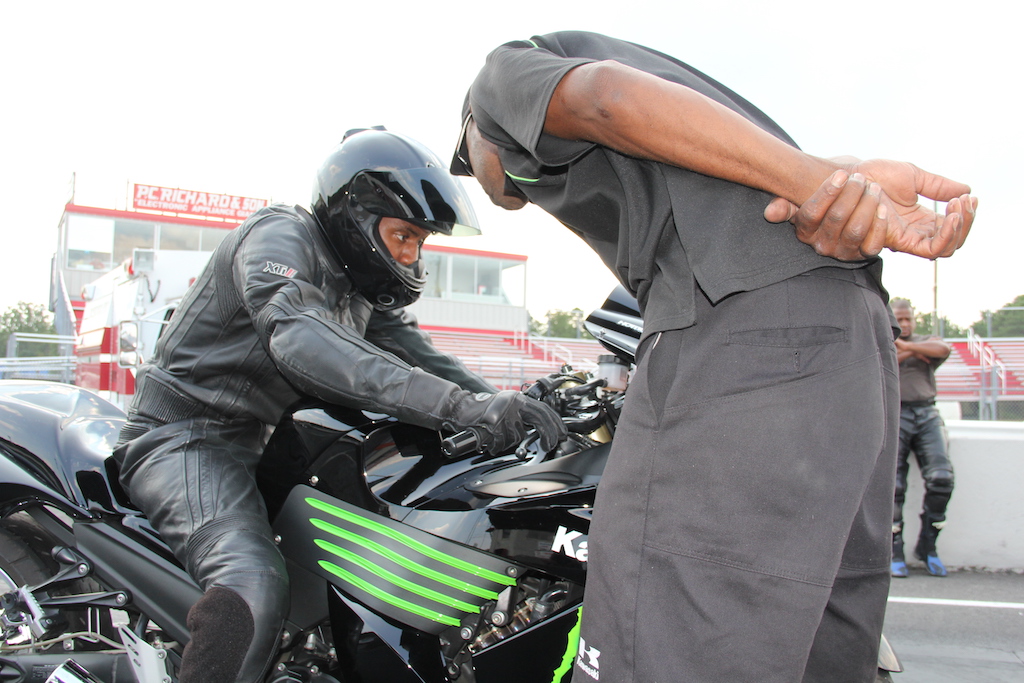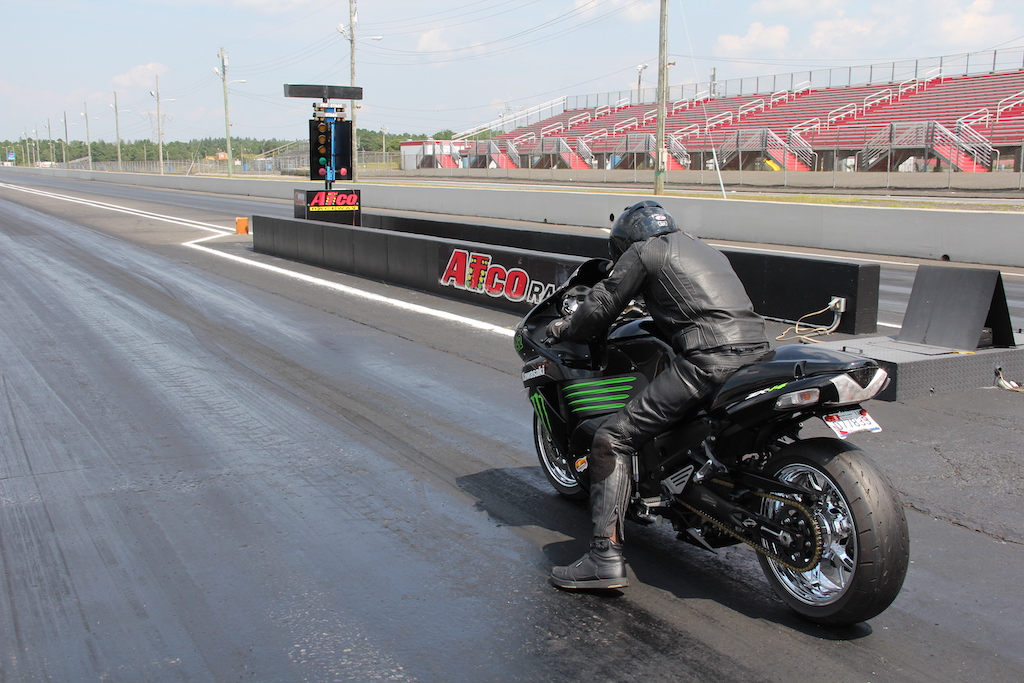 It was late on Thursday afternoon. Gavin had chased it down to the low nines. The entire class watched as Rickey watched as the lights descended the tree. Gavin launched and immediately Gadson knew that he had hit an 8.98 pass.
I'll say it again. You don't know anything about drag racing. Even if you think you do, I'm telling you… You don't. You may know a little bit. But what if that little bit could grow into a lot. That's the point. Why do we seek knowledge? Why do we yearn for education? To be better than what we are. To be the best.
Admitting that you know nothing leaves you wide open to learn everything.
Images: Allan Lane
---