Brittany Ewin out of Nashville, Tennessee is currently one of the fastest female drag racers from across the South.
We visited with Brittany Ewin out of Nashville, Tennessee for a one-on-one interview. I've been a fan of this young lady since the day that I met her. We've been trying to get this particular article together for a while, but when you're a mother, a registered nurse, and a grad student, it makes things difficult. But it was well worth the wait. She's currently one of the fastest female drag racers from across the South and she explains where her drive, determination and her motivation comes from. It never helps when your little brother is Patrick Ewin. With one of the best left hands in drag racing as your number one supporter, it's clear that it is family over everything!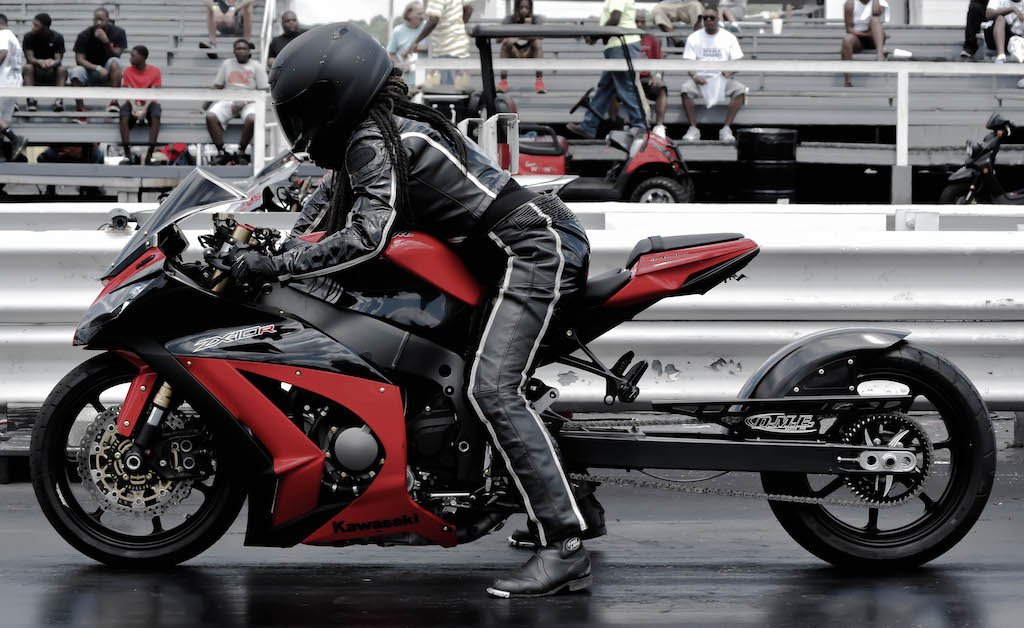 Hometown: Nashville, TN
Home Track: Music City Raceway
Bikes : 2012 Kawasaki ZX-10R, 2007 Suzuki GSXR-1000
A&O: When did you start riding motorcycles?
Brittany Ewin: I started riding motorcycles when I was in high school. My brother, Patrick Ewin and I had a bunch of friends who rode and he pretty much refused to let me ride on the back. One day my dad bought a motorcycle and my brother and I started sneaking it out while he was at work. My brother was 12 years old and he was teaching me how to ride (I'm 5 years older). It took a little bit of getting used to the clutch, but I'm a quick learner. A couple of days later, I rode out with the guys and got left behind and lost. They broke me in pretty quick, but that was the first and only time it happened.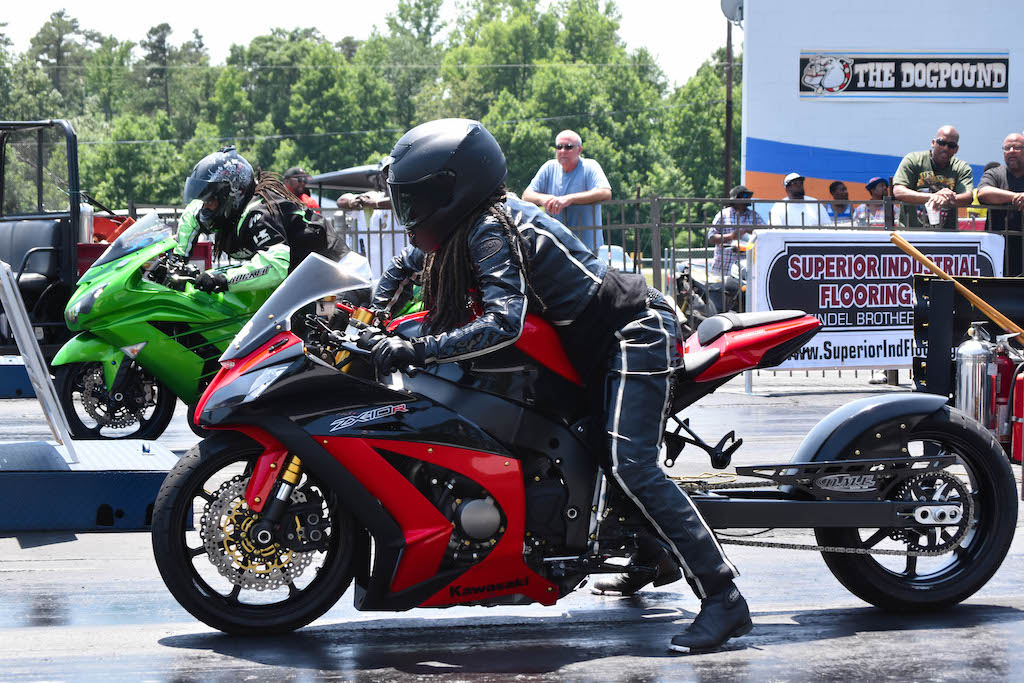 A&O: How did you get into drag racing and who has been your biggest influence so far?
Brittany Ewin: That credit goes to my little brother also. Around the same time that I learned how to ride, my dad took us both to a bike race at our hometown track and we've both been hooked since that day. That next season, my brother started racing. One day, he dared me and called me a chicken. And he bet I couldn't do it. I couldn't let my little brother punk me out, so it was a bet. That same day, we went to this place where we street race in Nashville and I started working on my holeshot. We went to the track that following week and I've been racing ever since.
---
---
If you know me or follow me on social media, although I race all the time, most of my posts are races between my brother and I. He's one of the best riders that I know and he's the one that pushed me to get into it. He can do it all, from the wheelies and street tricks to the racetrack… He's just a natural on anything. So you can imagine the feeling whenever I beat him. I feel like I've won the Superbowl, World Cup, Heavyweight title, whatever you want to call it! We are so competitive! He has never "let" me win a race, ever. When we meet up in a round, he's like, "You better earn it." I've raced several bikes from the ZX-9 that I started on to 1000s, old-school 1100s, Hayabusa's and ZX-14s… All true hand clutch.
Between my brother, my dad and my partner John Childrey, I'm pushed to ride hard no matter what I'm riding and who I'm racing. They'll bring me a bike and tell me to ride that "thing" and send me out to the tagging lane all the time! "Thing" isn't usually the word they use though. I would ask to turn bikes down, in relation to the power mode, until I could get used to them but they always replied with tough love. John always said, "They don't go down." Patrick would tell me to man up and just ride and my dad always told me to do some damn push-ups!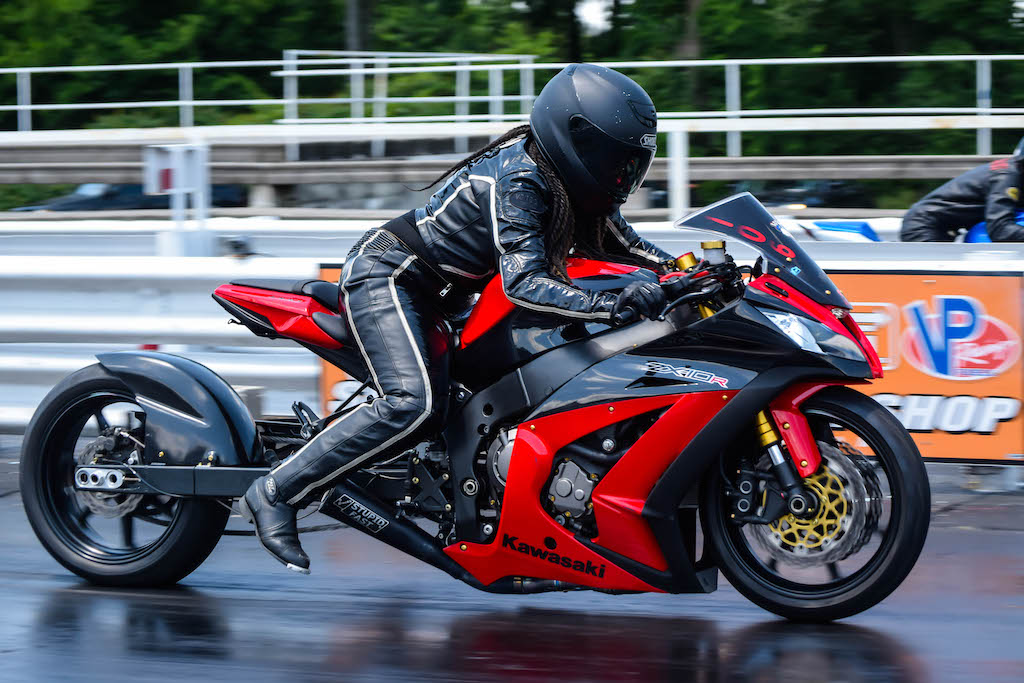 When I was learning, I used to make my brother ride first to see where I needed to be and when I hit his numbers, I knew I was on point. Now, I better be at his time or lower… especially if I'm lighter on that bike set-up. There are no free passes for me. Within the first couple of passes, I better be on my A-game or they're on my butt! I can hear what they'll say to me before I ever make it back to the trailer.
My dad used to race but between my brother and I racing now, he's happier pitting, hopefully, and making sure we're together. I'm blessed to have such an awesome team comprised of family. I'll tell anyone that I'm not the best, but I'm thankful they never gave me a pass or made it easy.
As far as other racers, I admire so many that it's too many to name, and for lots of different reasons. I've always loved to watch other women race. It's pretty awesome to see so many killing it these days!
A&O: You had your son a few years ago and took a break from racing as any mother would. Every time that we see you at the track he is with you. What is it like having him there with you?
Brittany Ewin: Yes! My son, Maddox. I raced until I was about 3 months pregnant and my suit got too tight to breathe! I rode until I was about 7 months, thanks to a custom tank. The sound of a motorcycle is about as normal to him as my voice. We come from a racing family, so I bring him to almost every race. I'm pretty sure he wouldn't have it any other way. He's been riding on my gas tank to the staging lanes since he could sit up. It's "our little thing" and he loves it. We're not normal.
Most kids watch cartoons but I play racing videos on my phone to make him stop crying. He's been imitating racing on his Strider bike, the sounds from the burnout, the leave, hitting gears down the track since I can remember. I race pretty frequently in my hometown. Whenever I receive a trophy, he likes to carry it. He's my motivation to win them!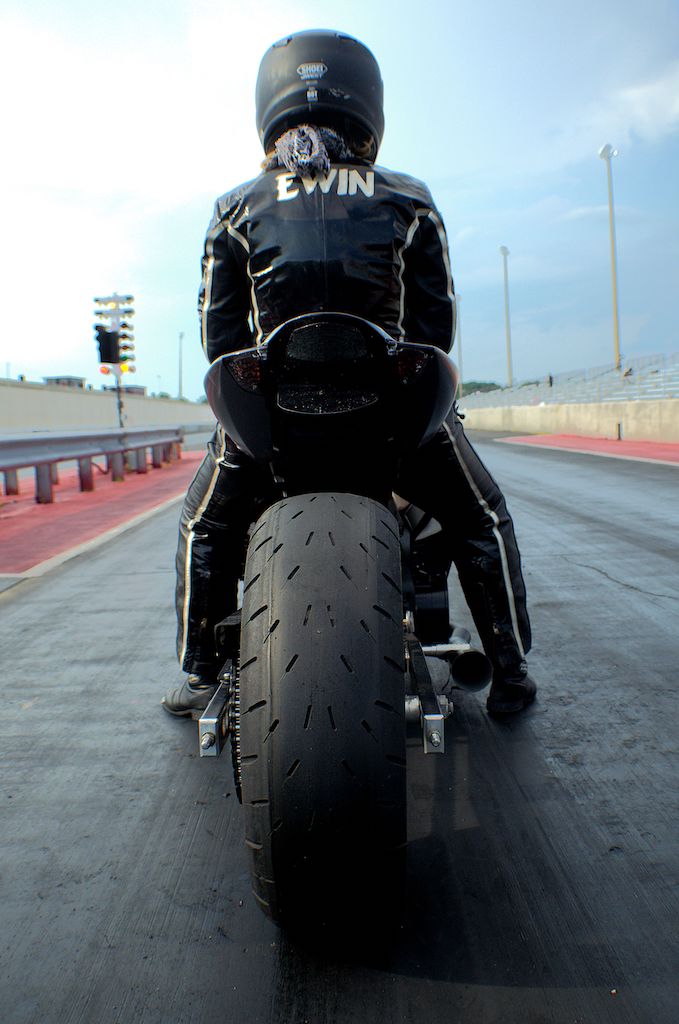 A&O: What upcoming racing plans do you have?
Brittany Ewin: Ideally, I'd love to consistently race with a series, or two. I'm a registered nurse and an assistant manager at a Children's E.R. in Nashville. I'm also in graduate school so that takes up most of my time, even though some days I'd rather be racing! We do have a couple of things we're working on. Another bracket bike and a hand clutch street tire. I may be looking to Grudge a little more before the season is out. Jesus send a sponsor! A few years ago, John and Anibal from AM Performance, started working on some programs to see what I could do with some heads-up racing, but I took a baby break and things got put on hold. They've recently been back in the lab so we shall see! I just love to ride.
---