Good things come in small packages. The Ohvale GP-2 190 Daytona packs plenty with its 190cc four-stroke single-cylinder engine.
I've always been a proponent of small motorcycles and the teachings they can impart to a rider. Small bikes hone a rider's finite techniques. They magnify mistakes and suffer fools as quickly as your mom. It's no wonder riders from Valentino Rossi to Josh Herrin to Colin Edwards use different versions of small bikes — road or dirt — to make themselves faster. If it's good enough for them, you can be damn sure it's good enough for the rest of us. However, if you're a regular size human and not a pint-sized MotoGP jockey, there was a problem. Fitment. Ohvale's GP-0 series of 110, 160 and 190cc motorcycles were devised mainly with kids and teens in mind. But it soon became apparent bigger kids, like me, wanted in on the action. As such, the $6495 MSRP Ohvale GP-2 190 Daytona was born.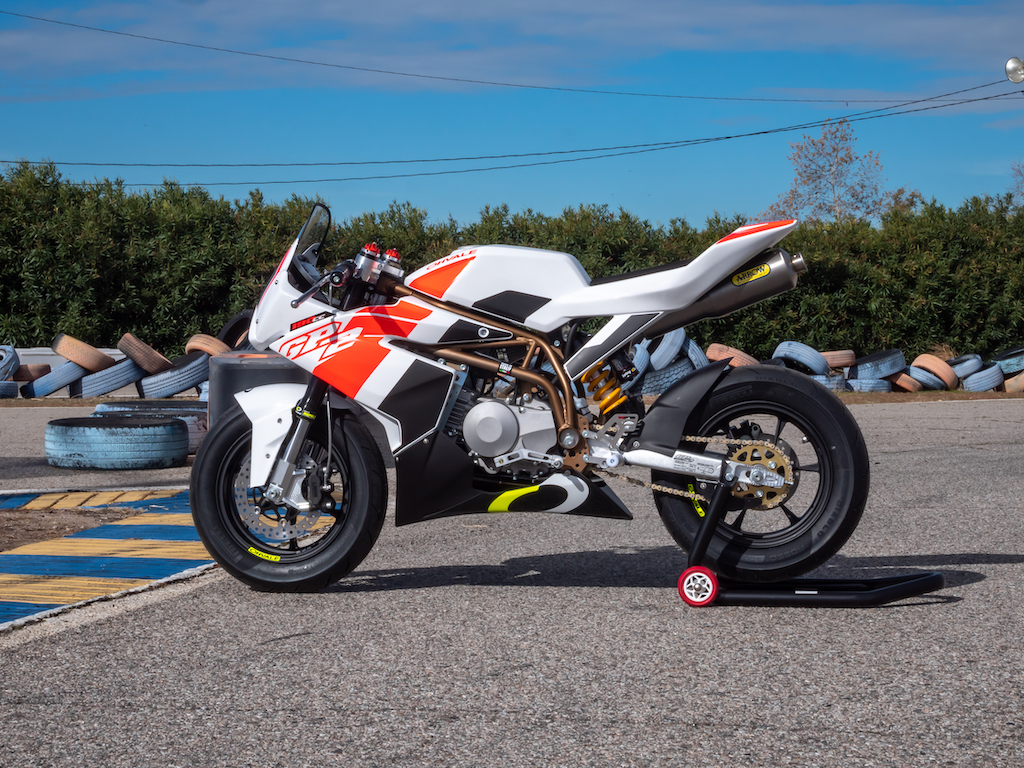 Using the same four-speed 190cc four-stroke single-cylinder motor as the GP-0 190 Daytona and wrapped in a tubular steel chassis, the GP-2 is larger everywhere in the places that matter most. From the handlebar to the seat, you've got 3.1 inches more. The seat-to-peg gap has been increased by 2.4 inches. The peg-to-handlebar gap has been stretched a substantial 5.5 inches. And the swingarm is 0.98 inches longer. The big news is the 12-inch wheels. Wrapped in Pirelli Diablo Rosso Scooter SC rubber, these wheels make the Ohvale GP-2 190 Daytona a different beast than before, with a more stable turn-in and more confidence to the rider over the 10-inch wheels of the GP-0.
At a height of 6 foot and 1 inch, I found the GP-0 about as comfortable as a pretzeled yoga position after five laps of my local kart track. Whereas the GP-2 I can ride for four times that distance and still not get sore.
The GP-2 comes standard with unadjustable suspension up front with a preload and rebound adjustable shock at the rear. But our testbike came with Italian-made Mupo fully adjustable front suspension, a slipper clutch and an Alfano GPS dash that was shoehorned into Ohvale duties after the company made its name in kart racing.
The Alfano dash is a trick piece of kit. Your lap times will flash up on the screen as you ride And you can download all the information to your PC to analyze where you're fast on the track and where you can make up time. Think of it as a smaller, easier to use version of the Ducati Data Analyzer system found on Ducati's superbikes.
There are funky pieces everywhere on the GP-2. The rearsets are adjustable up to three positions. The Arrow exhaust looks like it's come straight off the WorldSBK grid. And the gold finish on the frame is worthy of a bike three times the price.
But then you ride it…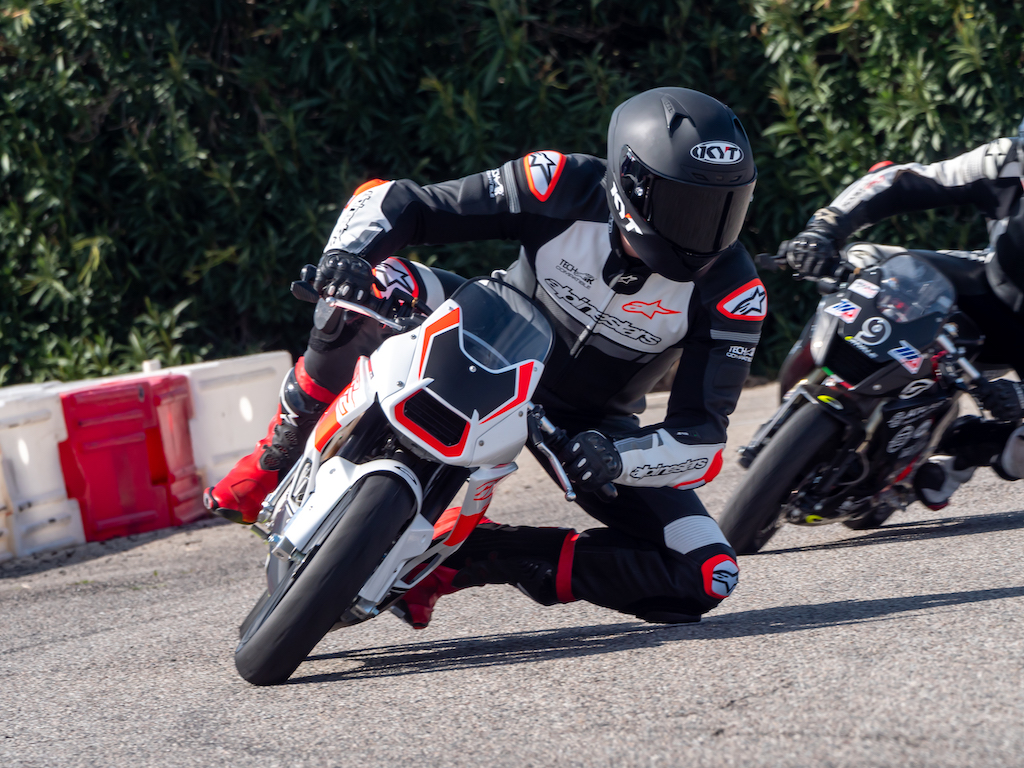 There's about 20 horsepower on tap for the GP-2 190. And that's more than enough when you consider the size of the chassis. It's got a surprising amount of low-down torque for such a little engine. But it loves to live on the redline, maxing out every last ounce of power as you rip into the turn one braking zone.
To get the most out of an Ohvale, you need to first locate where you're comfortable braking on the track. And then increase that distance by at least 30 feet. Then it's time to take a super late turn-in point, get the ultra-stiff chassis pointed in the right direction and feed the gas in fast and hard. In a way, it's very much like the point-and-shoot style required for a superbike. Only you still need to keep up the roll speed to max out your drive. It does only have 20 hp, after all.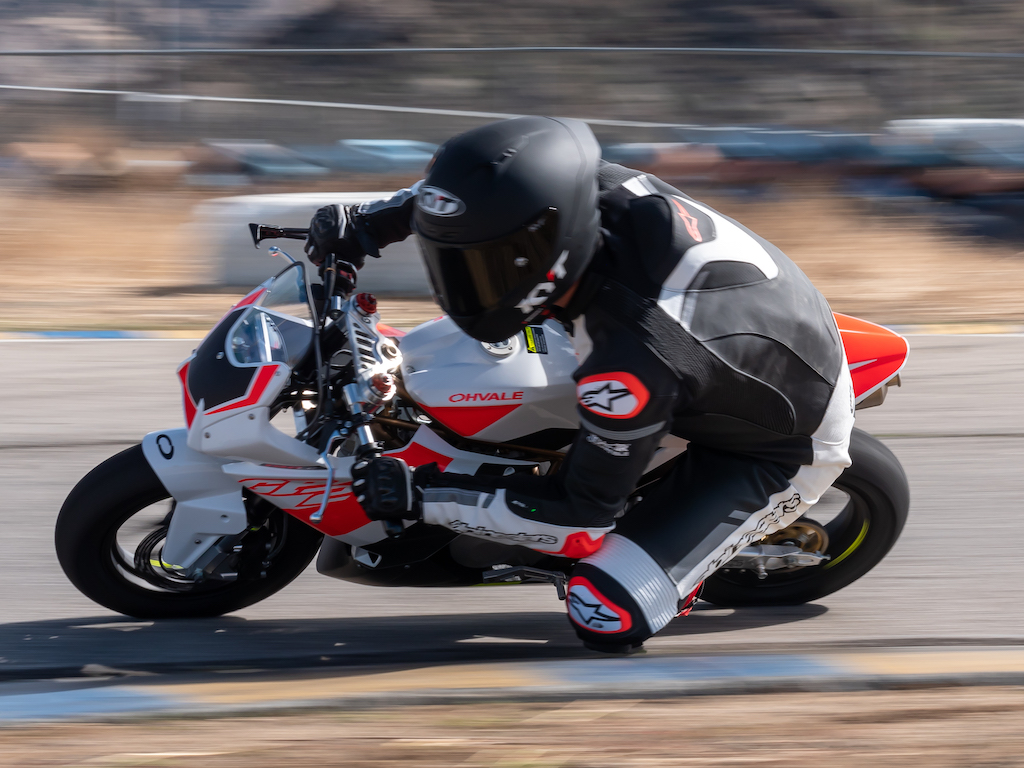 Do this, and you'll learn so much about what makes a motorcycle, especially a sports one, tick. Under braking the Ohvale magnifies your body position. Be in the wrong place on the bike, and it will tell you very quickly. Overload the front under braking by putting too much weight on the tire, and the Ohvale will shake its head in disappointment like Mr. Miyagi. You must learn, grasshopper. Wax on, wax off.
These bikes will bring forth a new generation of road racing rippers. But that doesn't mean we grown ass men and women can't have some of the fun. You're never too old to learn new tricks, and with one of these Ohvale GP-2 190 Daytona's underneath you, it's impossible not to improve your riding.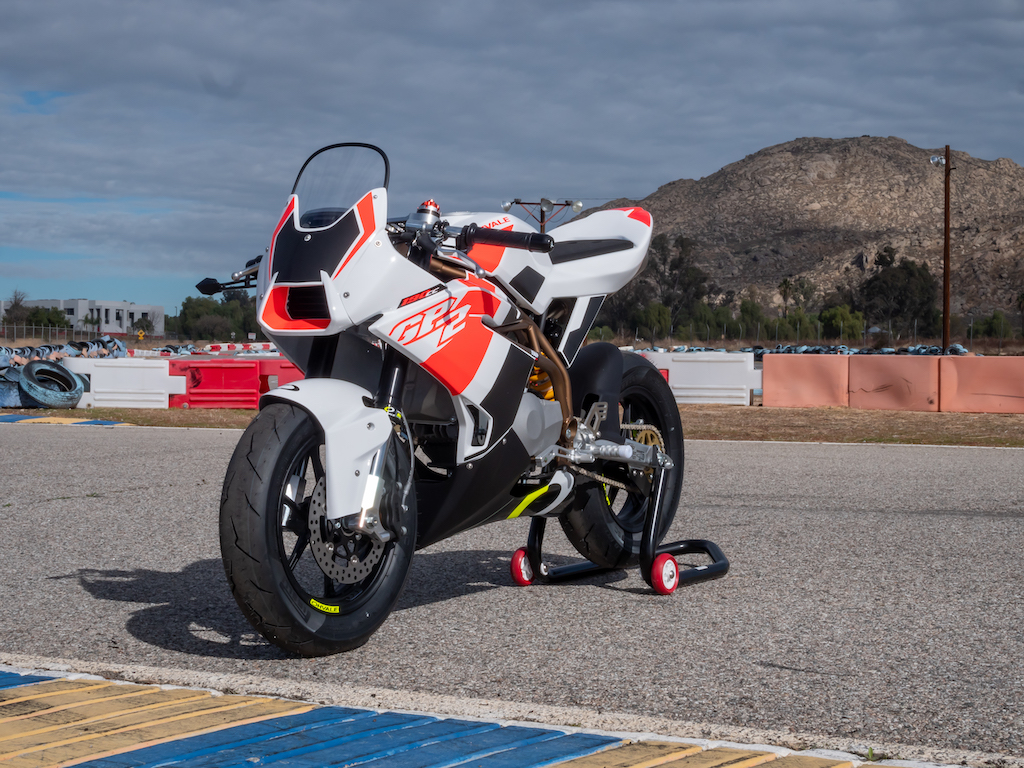 ---