Sporting a single sided swingarm, the new ARCH 1s model joins the KRGT-1 and is the second offering from the bespoke ARCH Motorcycle company.
The ARCH 1s is the first production single sided swing arm bike from ARCH Motorcycle and the official second offering. It introduces new mid-controls for a more aggressive riding position and handling, as well as an ARCH designed exhaust system and a carbon fiber fuel cell that incorporates both air intake and filtration systems.
The powerplant of the ARCH 1s is the 2,032cc (124 cubic inches ) S&S Cycle T124 twin cam, 45° downdraft fuel-injected V-Twin engine that produces an impressive max torque output of 121.77 at the rear wheel. The ARCH 6-speed drivetrain, complete with a custom compact mainshaft, is employed for such high-torque occasions. The primary drive consists of ARCH's own Bandit dry belt that comes with a condensed clutch basket while the right-hand side uses a 530-pitch O-ring chain.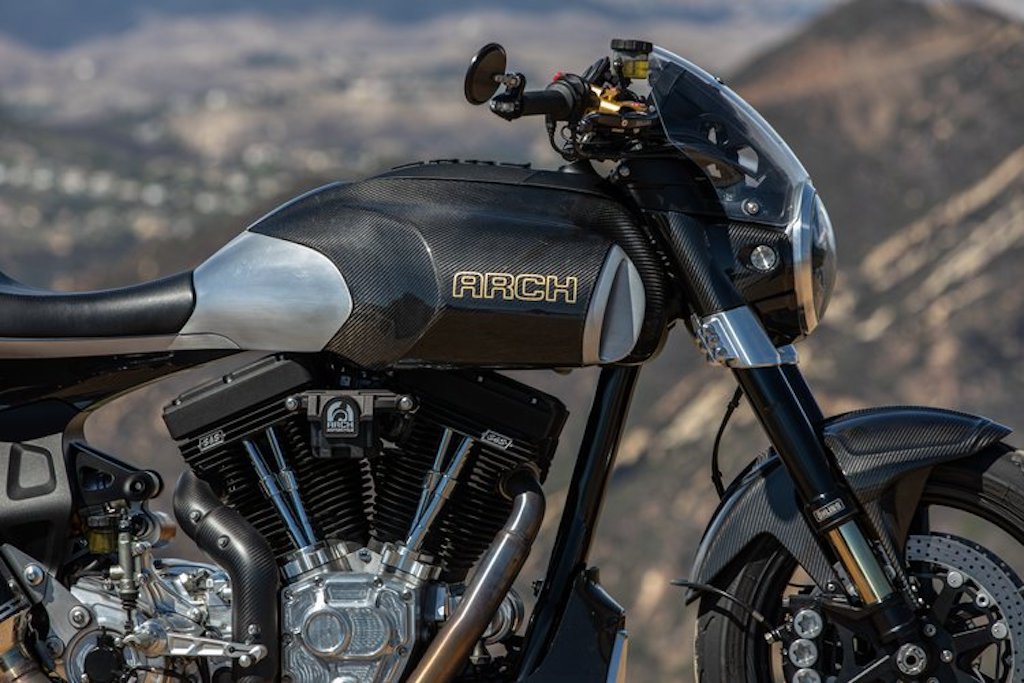 The frame of ARCH 1s is constructed from ARCH tubing and billet steel, with billet aluminum structural components. The single sided swingarm, a first for ARCH Motorcycle, is also made from billet aluminum, with titanium axle adjusters.
The Ohlins suspension assembly is made of a set of inverted 48mm forks in the front and a single shock with reservoir and hydraulic preload adjustment in the back, both fully adjustable.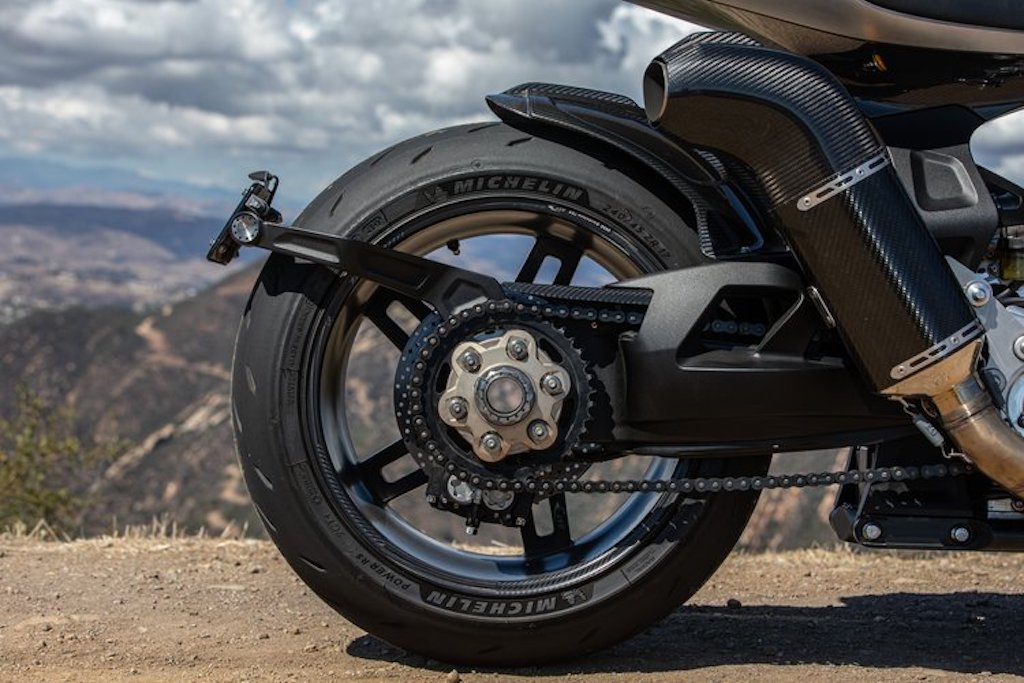 Tipping the scales at 563 pounds (dry), the ARCH 1s rolls on ultralight carbon fiber BST wheels, paired with Michelin Pilot Power 3 tires (120/70ZR17 front, 240/45ZR17 rear).
In the brakes department, the ARCH 1s features a Bosch anti-lock braking system that has ISR 6-piston monoblock radial calipers in the front with a pair of ISR floating dampened rotors and a single ISR 4-piston monoblock radial mount caliper with an ISR rotor in the back.
One would expect a bespoke bike brand such as ARCH Motorcycle to lack nothing in the style department and they surely do not disappoint. The ARCH 1s looks ready for both flight and a fight with its streamlined and flowing aesthetics. Its overall composition reflects an abundance of understanding of the relationship between positive and negative space, especially when viewing the ARCH 1s in profile. That design lends toward the functionality of the bike's form.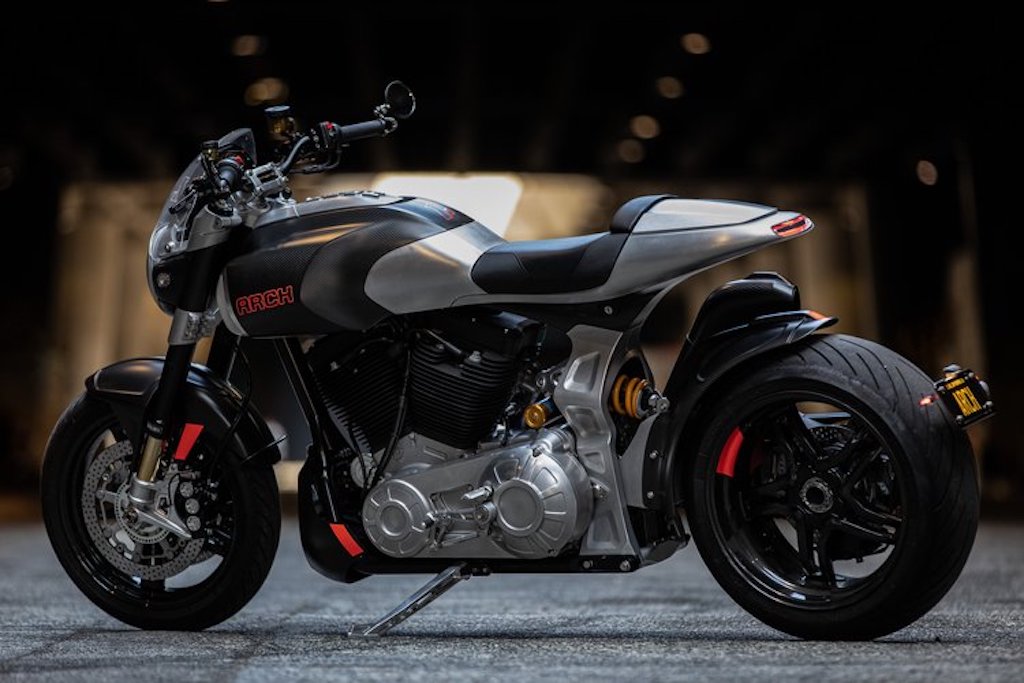 The LED headlight is high-output and adaptive, with integrated high and low beams. The bar end LED turn signals provide improved visibility, while the ARCH cove-reflective LED tail light ensures you are seen from behind. At the dash, ARCH Motorcycle's in-house TFT LCD digital instrumentation is a premium platform, competition level, and made by AiM Sports.
The ARCH 1s features a wheelbase, rake, and trail that spec out at 65.4", 25.15°, and 4.02", respectively. The seat height measures 31.5". With those geometrics in mind, it is also noteworthy to mention that each ARCH 1 is customizable to the rider's needs, allowing for a better ride, comfort, performance, and overall experience.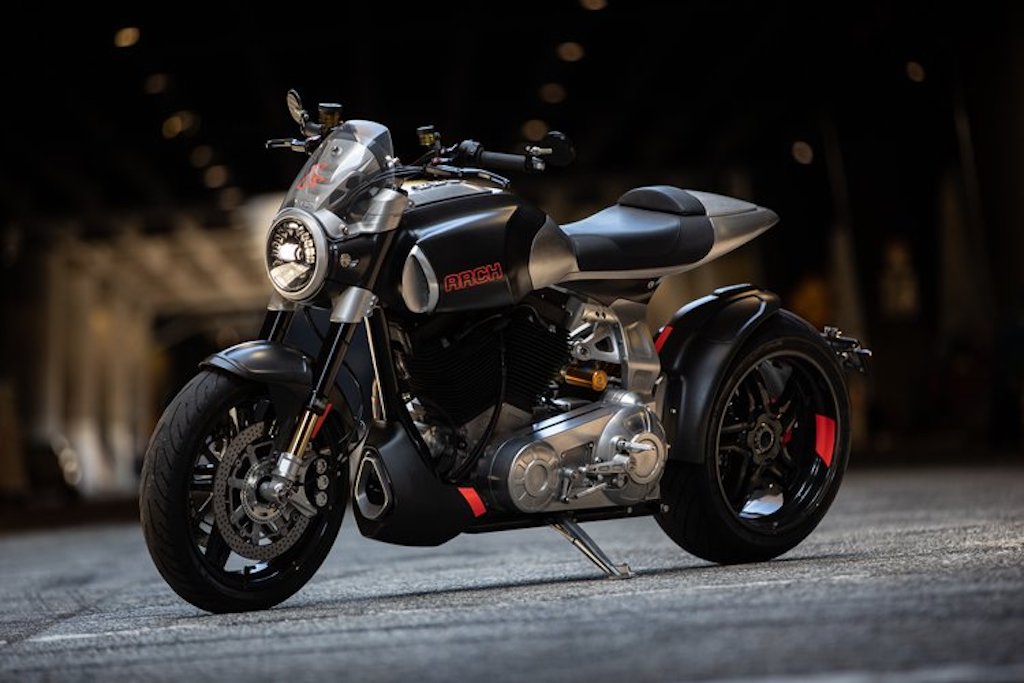 "We're very excited to officially introduce the new ARCH 1s. With the help of our entire team and many amazing partners, we believe we've crafted something truly special for riders to experience and are proud to finally see it out there on the road. The 1s beautifully merges American cruiser-inspired elegance and race-inspired performance – a concept we've worked to design, build, test, refine, and deliver since its initial reveal. I'm proud and honored that we have this opportunity to share the new 1s model with the world." – Gard Hollinger, ARCH Motorcycle co-founder and design director.
"We just celebrated our 10th Anniversary as a company this past year, yet it feels like only yesterday that I put forth the idea of starting a motorcycle company with Gard. It is incredible to see how far we've come in such a short period – from the KRGT-1's amazing reception to the new 1s as our second model. And that's a real testament to our talented design and build teams and their ability to produce something that fulfills ARCH's ambitions for what a motorcycle company can bring in architecture, style, elegance, and overall experience." – Keanu Reeves, ARCH Motorcycle co-founder.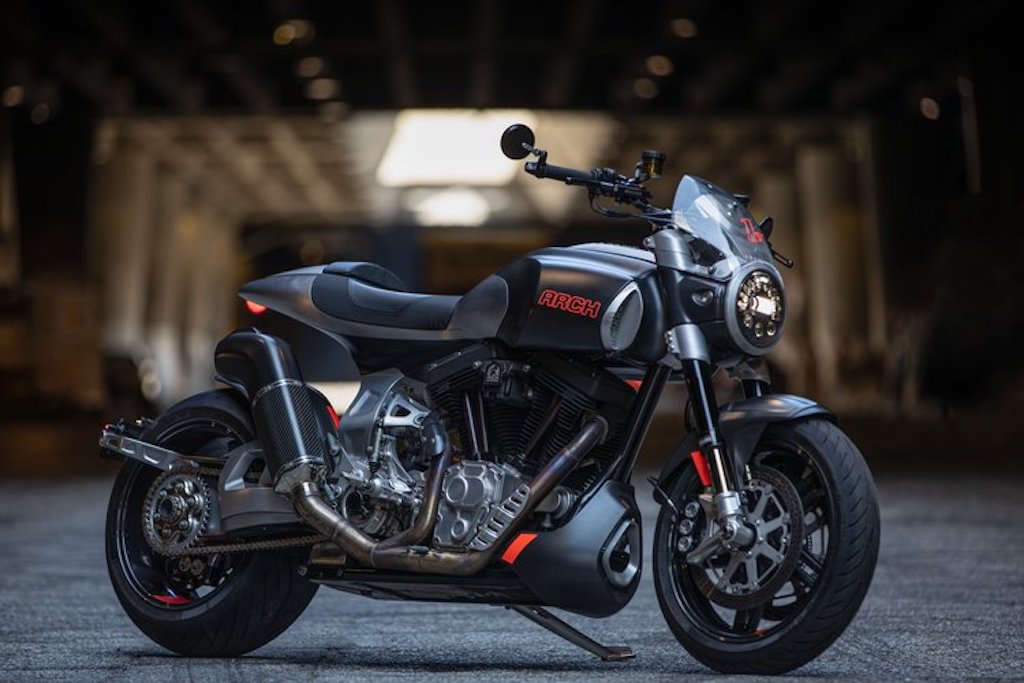 Orders for the ARCH Motorcycle ARCH 1s are now being received and have a price tag of $128,000. For more info or to place your order, visit HERE…
---