The 18-round 2023 Progressive American Flat Track schedule has been finalized with a Daytona double header weekend and the return of a few familiar tracks.
The 2023 Progressive American Flat Track season will kick off in Daytona, Florida at Daytona International Speedway, kicking into gear another thrilling 18-stop tour of flat track racing. A total of five Miles, five Half-Miles, four Short Tracks, and four TTs comprise the 2023 schedule between March and September.
Along the way, a couple of familiar tracks make a return to the 2023 schedule, the Arizona Super TT, which made its debut in 2019 as part of the 29th annual Arizona Bike Week, and the West Virginia Half-Mile which sees American Flat Track racing returning to the state for the first time since 2006.
Tickets are available now for a few rounds of the first half of the 2023 season. The rest of the rounds will go on sale in due time
Progressive AFT 2023 Schedule:
March 9, 2023 – DAYTONA Short Track I, Daytona International Speedway, Daytona Beach, FL
March 10, 2023 – DAYTONA Short Track II, Daytona International Speedway, Daytona Beach, FL
March 25, 2023 – Senoia Short Track, Senoia Raceway, Senoia, GA
April 1, 2023 – Arizona Super TT, Chandler, AZ
April 22, 2023 – Dallas Half-Mile, Devil's Bowl Speedway, Mesquite, TX
May 6, 2023 – Ventura Short Track, Ventura Raceway, Ventura, CA
May 13, 2023 – Sacramento Mile, Cal Expo, Sacramento, CA
May 27, 2023 – Red Mile, The Red Mile, Lexington, KY
June 17, 2023 – DuQuoin Mile, Du Quoin State Fairgrounds, Du Quoin, IL
June 24, 2023 – Lima Half-Mile, Allen County Fairgrounds, Lima, OH
July 1, 2023 – West Virginia Half-Mile, West Virginia Motor Speedway, Mineral Wells, WV
July 8, 2023 – Orange County Half-Mile, Orange County Fair Speedway, Middletown, NY
July 22, 2023 – Bridgeport Half-Mile, Bridgeport Speedway, Swedesboro, NJ
July 30, 2023 – Peoria TT, Peoria Motorcycle Club, Peoria, IL
August 6, 2023 – Buffalo Chip TT, Sturgis Buffalo Chip, Sturgis, SD
August 12, 2023 – Castle Rock TT, Castle Rock Race Park, Castle Rock, WA
September 2, 2023 – Springfield Mile I, Illinois State Fairgrounds, Springfield, IL
September 3, 2023 – Springfield Mile II, Illinois State Fairgrounds, Springfield, IL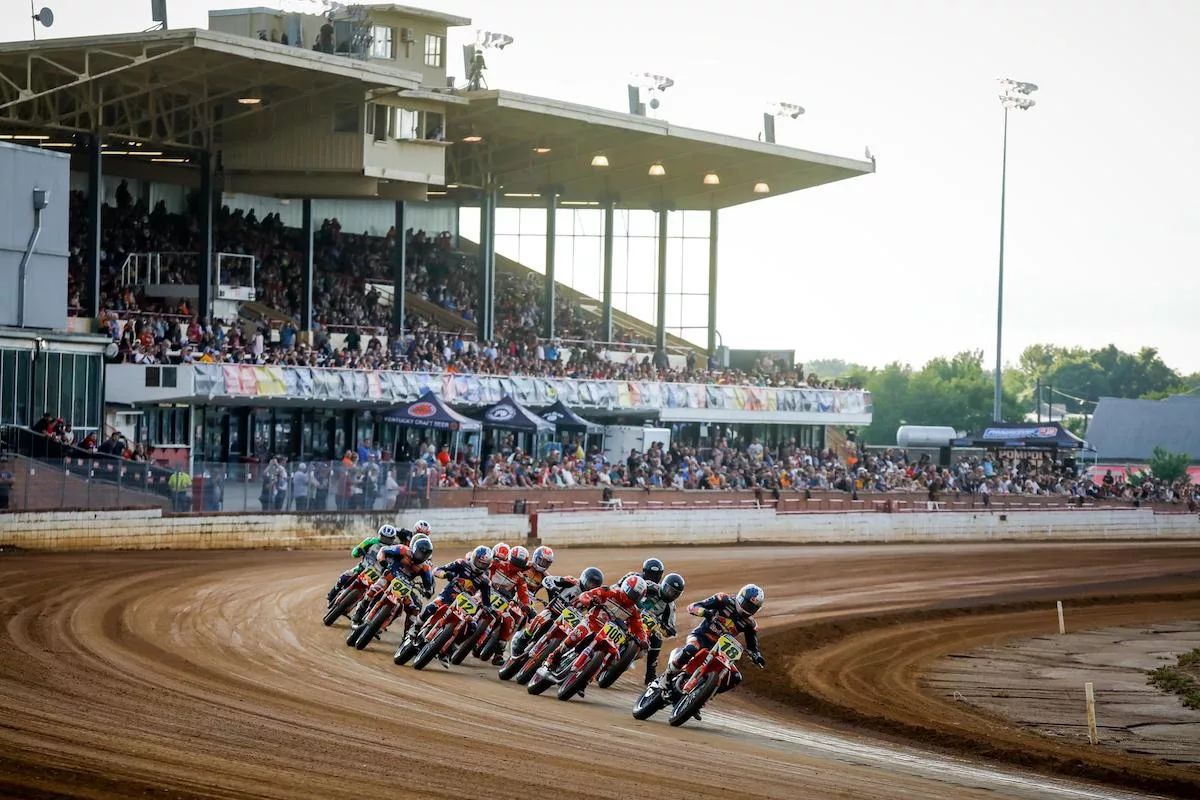 ---