---

---
On a sweltering hot day in Jerez, Spain at the Angel Nieto Circuit with four laps remaining of a 25 lap burner of a race, eight-time World Champion Marc Marquez high sided while exiting turn 4, the same turn that ended Mick Doohan's career.
It was a vicious high side that saw the Champion break his right humerus or in public school terms, right arm. It was rumored that there was nerve damage that proved to be untrue. Marquez will remain in the hospital for 48 hours. A titanium plate was attached to his humerus and by all accounts should heal and possibly race at Brno in three weeks.
Those are the facts. The rest? Well, that's up to conjecture.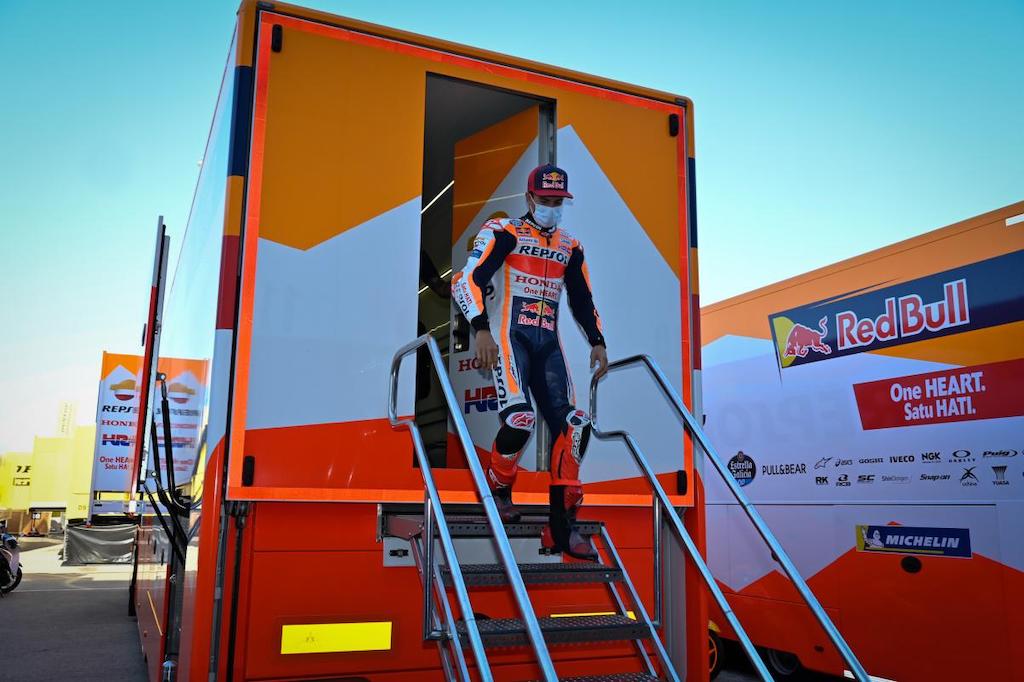 If Superman AKA Marquez does return in three weeks to race, which is possible considering it is Marc Marquez, he'll be at least 50 points down and in a pandemic shortened season… that's almost impossible to make up, but notice how I wrote, "almost."
We're talking Marc Marquez and we're talking about the nature of motorcycle racing. Let's say Marc comes back to racing in Week 3, down 50-0, and wins and he continues winning. Combined with a little luck, it is possible. But hell, it's possible for me to become President, but let's be serious!
Why risk another high side by a desperate Marquez and risk a career-ending injury? Tell Mr. 8x that it is a short schedule year. Write it off and come back in 2021 stronger and ready to show those other fools exactly who the Man is!
The problem with all this is that only a few of us know what it is like to be a World Champion. They operate on a different level, a level we have no idea what its like.
Social media was flooded with people saying, "He should've just settled for the podium," and "Just take the points…"
These are the same people I'm guessing that try and tell others what to do in a relationship when they haven't been in one since you could smoke on planes!
Nobody knows as of the writing of this article what Marquez is going to do, but you got the feeling he's going to give it a try. Champ gonna do what a champ gonna do. And that is the appeal of Marquez since he set foot onto the Grand Prix Stage in 2008. He's everything you want your Champion to be: handsome, charming, witty, and fearless! It's the fearlessness that captivates fans.
His saves are legendary but it is the all-out assault for the victory that captivates us, as fans. Marquez's hating to lose has provided the backdrop to fantastic finishes when mere mortals would've just settled for the points. It is also this fearlessness that leads us to where we are now. Sometimes people have to be saved from themselves and I believe Marc is one of those people. He sets his bar to win at all costs and while it has worked for eight world titles its also taken a toll on his body. We have yet to see how his body responds when he approaches the age of 30.
Whatever the decision that HRC decides is fine with me. If Marquez races, it bodes well for ratings. He is must-watch television!
If not? To see a new face garner a championship will be exciting.
My only beef which was briefly discussed was that if someone else does win the championship this year with Marquez out… Will they be considered a real champion?
This asinine question shouldn't even be addressed but since I have time on my hands… A championship is a championship, regardless of who participates. If all thirteen races are completed, that constitutes a championship, regardless of public or sometimes professional sentiment, treat it as such. As the old saying goes, "To finish first, first you must finish!"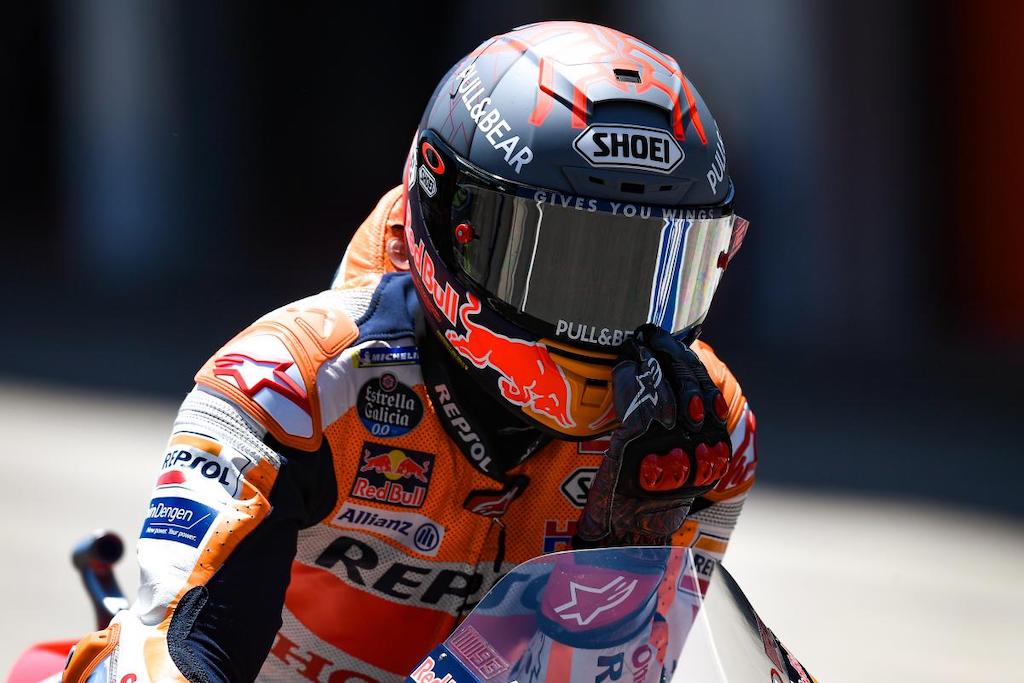 That bridge will be crossed soon enough and we can have this discussion in full but for now, all eyes are on the Champ. And for MotoGP fans, that's kind of the way it should be.
Images: MotoGP.com
---