A conversation with AMA 250GP Racing Champion and custom bike builder, Roland Sands and his custom-built Ducati Panigale 1299 S, first published in Sportbikes Inc Magazine, February 2016.
Roland Sands – the name is as synonymous to the custom motorcycle scene as sticky black rubber marks on the baking asphalt at Daytona or the unique blu-golding of titanium when TIG welded.
Being a National Championship holding racer having 10 AMA 250GP wins to his name, Roland is no stranger to motorcycles that push the envelope of speed. Both on the track and off. Perhaps it was the unique combination of being steeped in the worlds of both racing and custom motorcycles (care of his father's legacy, Performance Machine) that afforded Roland a unique perspective allowing him to create truly fast performance based motorcycles that possess equally matched aesthetics and design principles. Whatever the catalyst, no one can argue that as a custom motorcycle builder, his finished works border the line of perfection as it pertains to balancing form and function.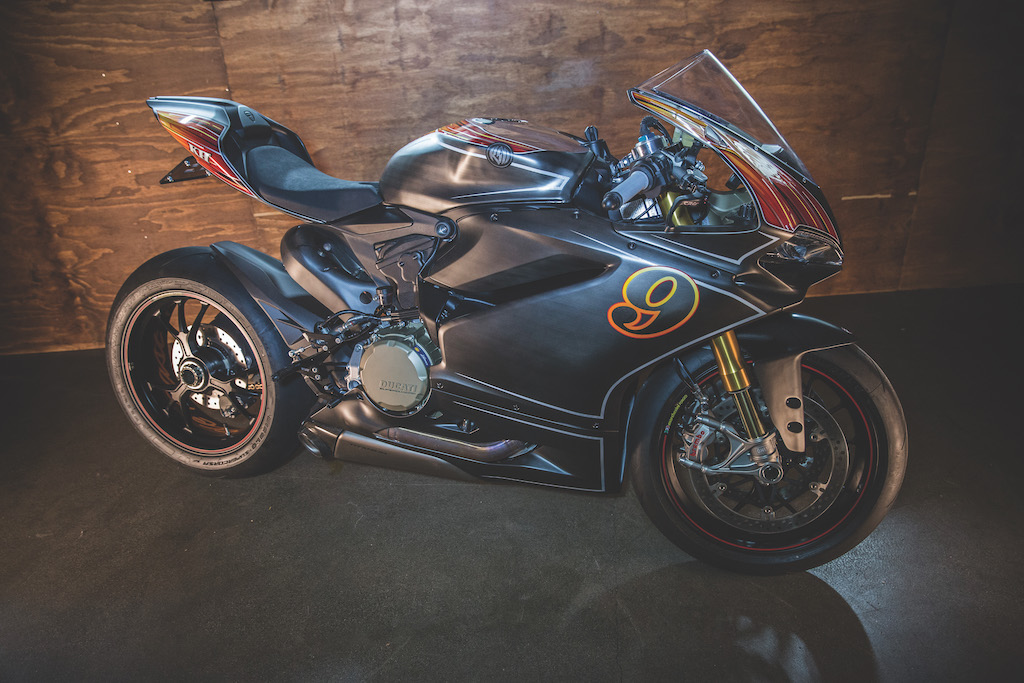 Recently, while in California I got to stop by the Roland Sands garage and catch a glimpse of Roland's new project build, the Ducati Panigale (possibly the epitome of performance in its stock trim, in my opinion). The bike wasn't finished yet, but even laying in pieces you could see the cohesive design elements playing off one another. Brushed finished, raw materials coated in clear, there they were all working in harmony. In my mind, I could see the finished bike before me and as expected, it was stunning.
Wrangling Roland Sands for an interview is a race all in itself. After observing a series of important business meetings with everyone from the Mayor of Long Beach to the President of MAG, it was finally my turn and though we've been friends for a long time now, I think of him as more like an older brother before a respected builder. It wasn't until I was asked to do this interview and started researching Roland's history that I realized how much he had accomplished in a short amount of time. I suddenly found myself pretty impressed at the company I keep. That's the thing about Roland Sands, he has a way of being relatable to just about anyone and just like the bikes he builds, anyone can see themselves riding them. The Roland Sands Ducati Panigale is no different. 
It was time to get the story…
LC: What was the inspiration behind the Ducati Panigale?
RS: The dude we built the bike for is a drag racer and he loves speed. MotoGP, Drag Racing, whatever, he's into it. So the bike actually matches a scheme I put together for him for his Top Fuel Funny Car. I was originally inspired by a Jeff Koons BMW art car. I took some of that design and simplified the colors playing with a satin gloss pattern and brushed satin metal finish.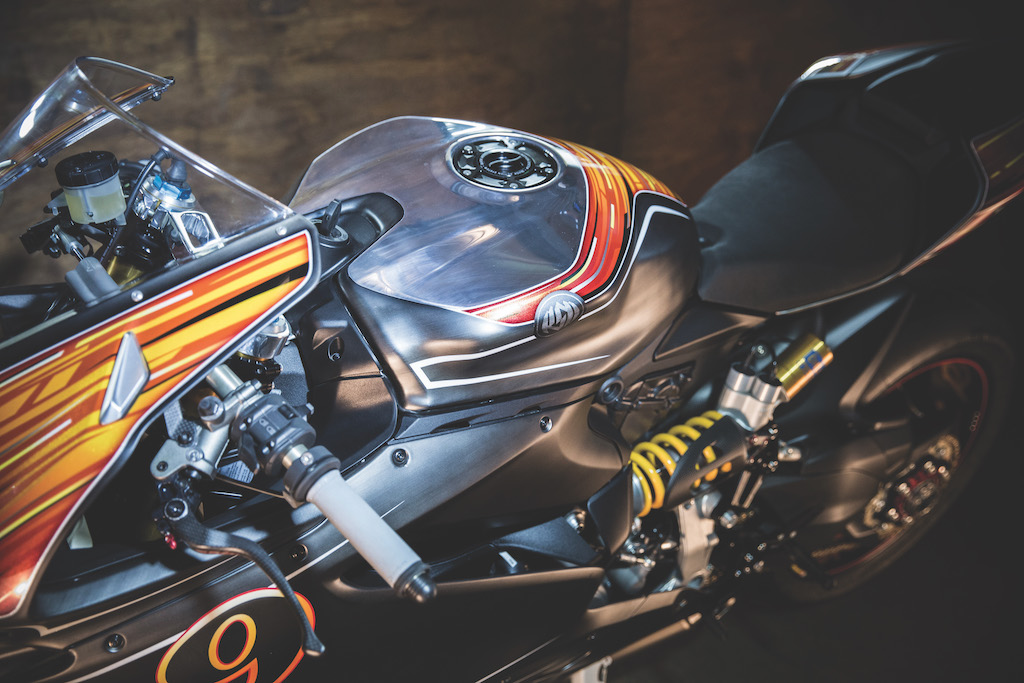 LC: Run me through some of the bells and whistles.
RS: It's really a pretty simple build. The Panigale is such a great bike from the factory we really just put the pretty up on it. Chris Wood paint, polished gas tank, billet parts, carbon levers, polished triple clamps, custom striped and lettered stock rear wheel. Superlegerra exhaust.
LC: What's the bigger picture behind this build and is there a segway into a new market?
RS: We didn't really look too deeply into it. It takes a tremendous amount of effort to develop products for a bike that changes every 3 to 4 years. Sportbikes are really tough to stay on top of and they don't build enough of them to make it makes sense. I wish it was different because they are some of my favorite bikes and are close to my heart.
LC: Will you be launching any aftermarket Ducati parts?
RS: We are currently doing a collaborative line with Ducati for the new XDiavel. RSD X Ducati Performance with a bunch of crazy parts for the new bike. We designed the last batch of Ducati accessories for the Diavel and this go around they wanted our brand on it. Ducati hasn't done much cobranding on hard parts so it's an honor to do it.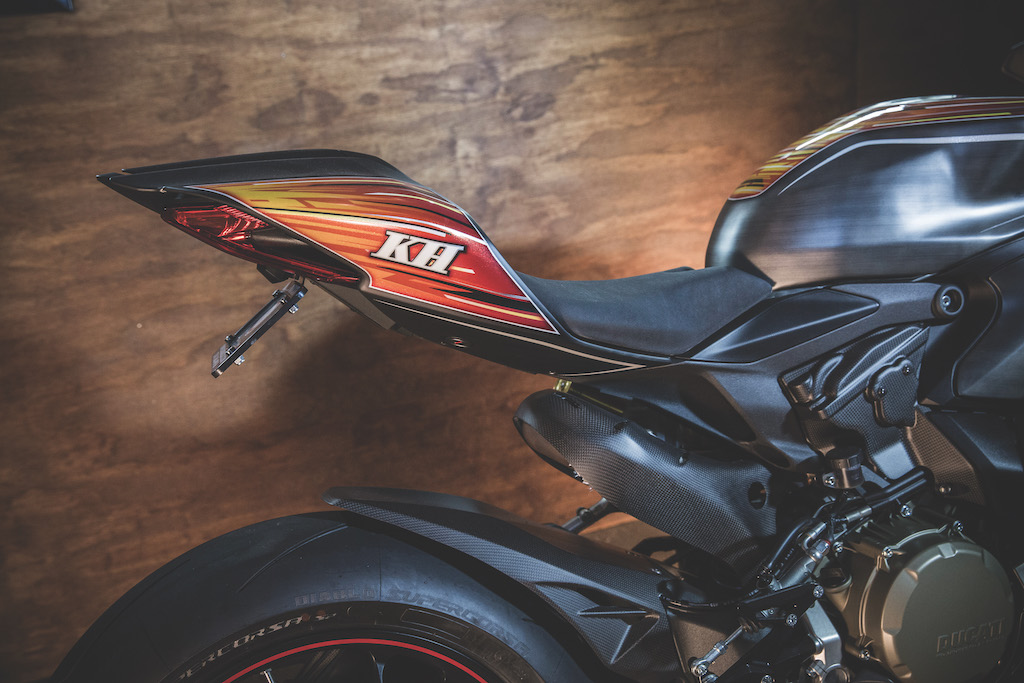 LC: What projects are next in the line?
RS: We've got another Panigale we're working on. And a Superlegerra Café hand-builtng down the pipes. A full hand-built BMW 9T based custom. BMW Drag Bike… maybe a Diavel Custom. It's a long list, but those are a few of the fun ones.
LC: What's your view of the current state of custom building?
RS: The term motorcycle custom conjures up a whole new visual to people these days. It used to mean a big shitty chromed out Harley. I'd say it's shifted quite a bit and there's a whole new consumer that views motorcycle customs very differently. The scene is much "cooler" these days. It's still very segmented but there's a lot of crossover and a more diverse offering of shows and events that cater to the new bike consumer. Things like Hooligan racing are ushering a completely new reason to build a custom… to actually race it. That's what gets me fired up. There's no hiding behind your custom paint when the green flag drops."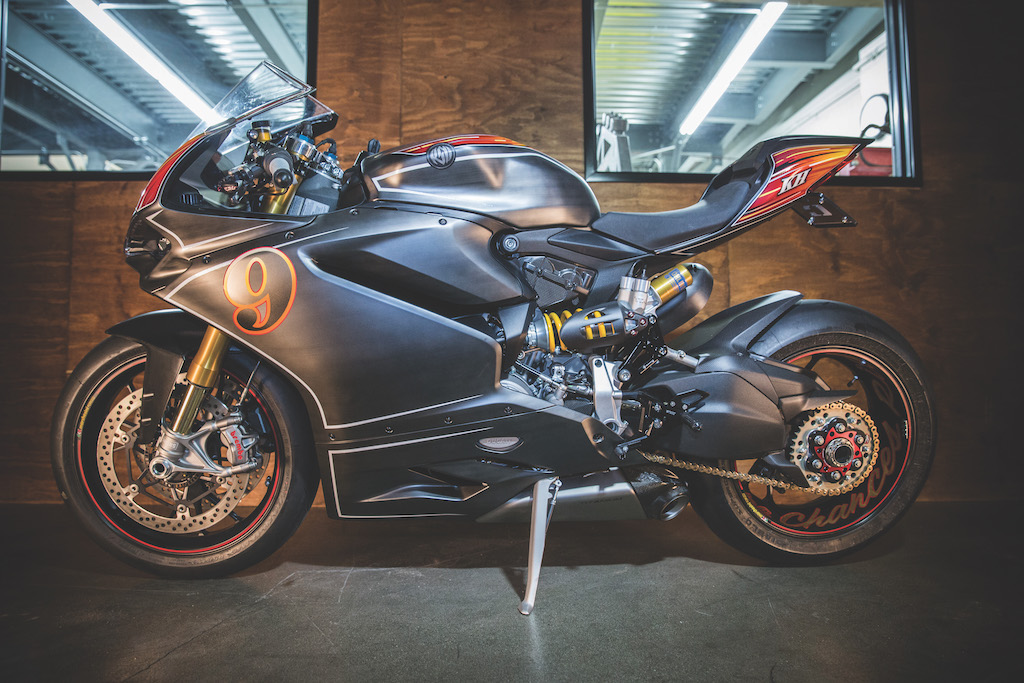 Images: Joe Hitzelberger
---