When you think of saddlebags, you don't think of sexy sleek design, but that isn't the case with the SW-MOTECH PRO BLAZE series saddlebags.
Today I'm going to be sharing with you SW-MOTECH's Pro Blaze saddlebags. At the beginning of this season, I had purchased my first naked upright motorcycle — a Kawasaki Z900. I've always ridden sport bikes but have taken a liking to the more comfortable and adventure-inspired sibling, wanting to venture more on longer tours and chill mountain rides. When looking for a set of saddlebags for my new ride, SW-MOTECH really stood out.
Founded in 1999, SW-MOTECH is one of the leading suppliers of motorcycle accessories worldwide and exports to over 70 countries. SW-MOTECH prides itself on providing first-class products – from the first design ideas and prototypes, all the way to testing, mass production and distribution. And that's truly a wonderful thing when you can trust that a product has been crafted with care and exudes quality.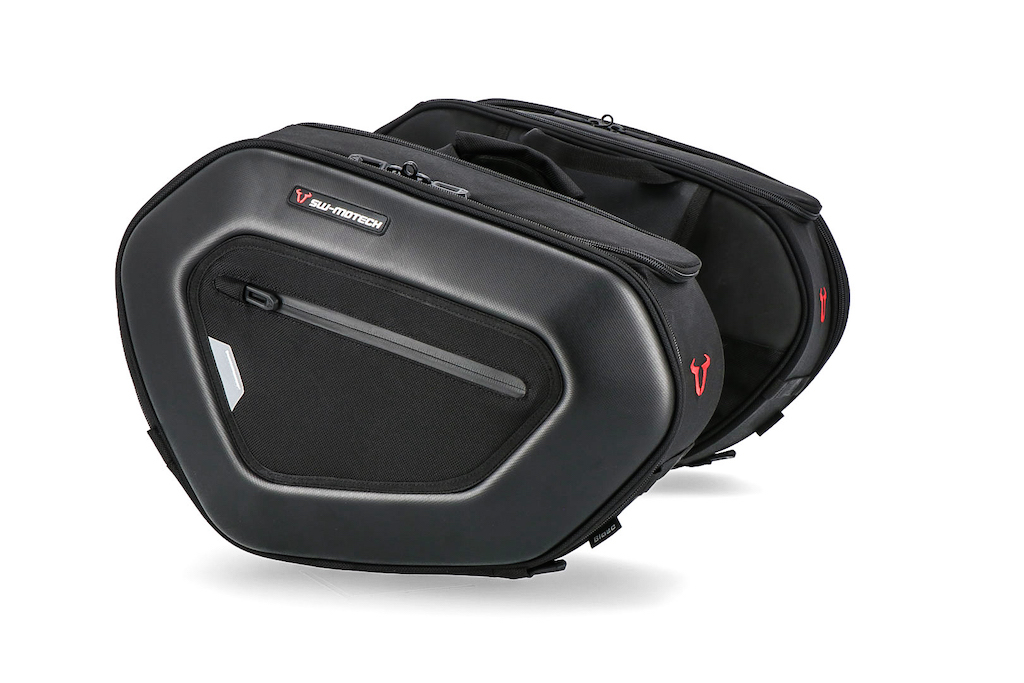 Typically when you think of saddlebags on motorcycles you don't think of sexy sleek design, but that is far from the truth here. The PRO BLAZE series is designed with quite the impressive sporty feel that looks great on a more aggressive style of motorcycle. They are incredibly light soft-style luggage and designed with stable aerodynamics in mind for minimal effects on handling and performance. Quite frankly I loaded up both bags to their fullest capacity with a couple of bottles of whisky, toiletries and clothing for my trip without feeling the slightest push or pull anywhere.
The thing I really appreciate about this design is the patented removable support arms which are a great solution for when you reach your destination and want to leave your saddlebags behind. Not only do you take off the bags but this system leaves your bike looking clean and no one would ever notice there were saddlebags installed just moments ago.
The system is very simple yet brilliant. There is a large Velcro strap that connects both bags together over the top of the passenger seat section. The support arms install into the passenger pegs (un-obscuring them) and contain clips that latch onto the saddlebags for added support and reassurance. When you are done with the bags, the support arms unclip and all that's left is a subtle mount on your passenger pegs. For motorcycles with higher exhaust pipes on the side, there is a special H variation and the bags are not affected by heat radiating from the exhaust pipe. My exhaust pipe is pretty tall and I can attest that the bags were not affected by it at all.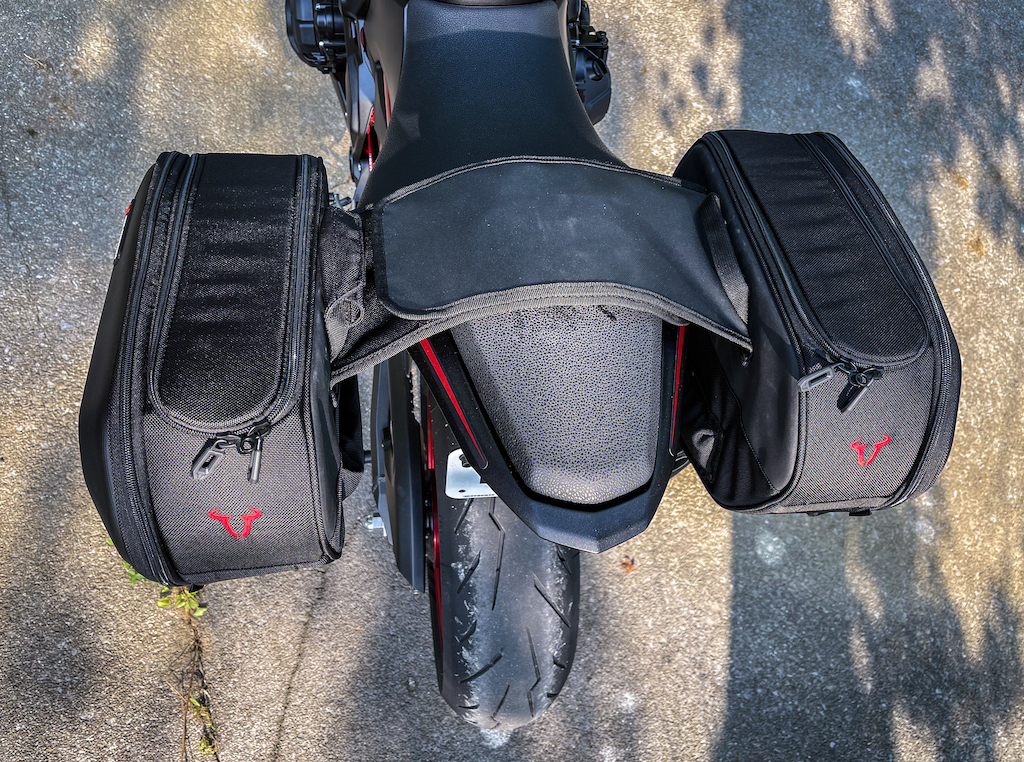 The bags are made from durable, highly UV-resistant 1680D ballistic nylon with a water-resistant interior coating. 2 waterproof inner liners are also provided. Each bag can hold 15 liters and has an expansion zipper to 20 liters. There's even an outer pocket that zips for quick access items. Bags come with a practical carry handle which makes them very convenient to carry away from your bike.
If you are looking for a simple and easy install solution or a more temporary solution then these Blaze Bags are perfect! I say temporary because you can not lock them onto your bike like you would with a more permanent fixture hard bag. So depending on your travels and the contents of your bags, you may want to be careful where you leave your bike. For me personally, these are a fantastic solution for my long weekend getaways. I like being able to travel without a backpack and then leave the entire bag assembly in my hotel room while I go play in the mountains on my motorcycle. I've also found them fantastic for running errands around town and grocery shopping. Quite honestly the more I use these bags the more I enjoy them and keep finding new ways of filling them up!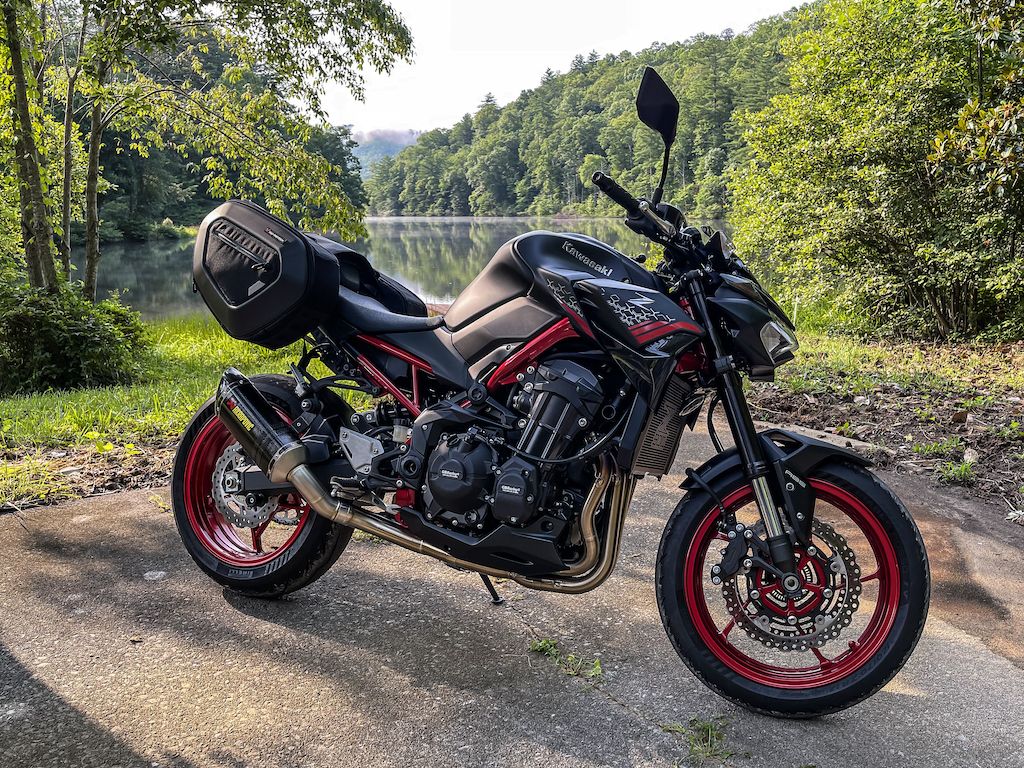 ---