---

---
The U.S. cruiser market has only two true manufacturers. There is no hiding the fact that Indian Motorcycle has been looking to take the number one spot from Harley-Davidson for several years. Indian's latest effort to dethrone the theoretical king, the Challenger Dark Horse does more than live up to its namesake.
Powered by Indian's 1768cc liquid water cooled PowerPlus V-twin engine, the Challenger Dark Horse produces an output of 122hp and 128-foot pounds of torque. Those are great numbers alone, however, the manner in which they are experienced is something to take note of. With a full tank of petrol, the Challenger Dark Horse tips the scales at 831 pounds. That's a lot of bike. However, the Challenger Dark Horse's engine, with its overhead camshafts and four valves per cylinder plus its six-speed transmission delivers smooth, controllable, and reliable power.
Smoothness is a key factor. You don't want to lug 800 plus pounds of machine with inconsistent output. It diminishes the experience. When I rolled on the Challenger Dark Horse's throttle, the response was consistent and predictable. My confidence and enjoyment in the Challenger Dark Horse grew with every twist of the wrist.
With power in check, the Challenger Dark Horse's braking and suspension receive top marks. Indian opted for Brembo brake components to bring race-spec stopping power to a bagger. In the front, you'll find a set of 320mm semi-floating rotors paired with radial-mounted 4 piston calipers. At the rear sits a single 298mm floating rotor and 2 piston caliper.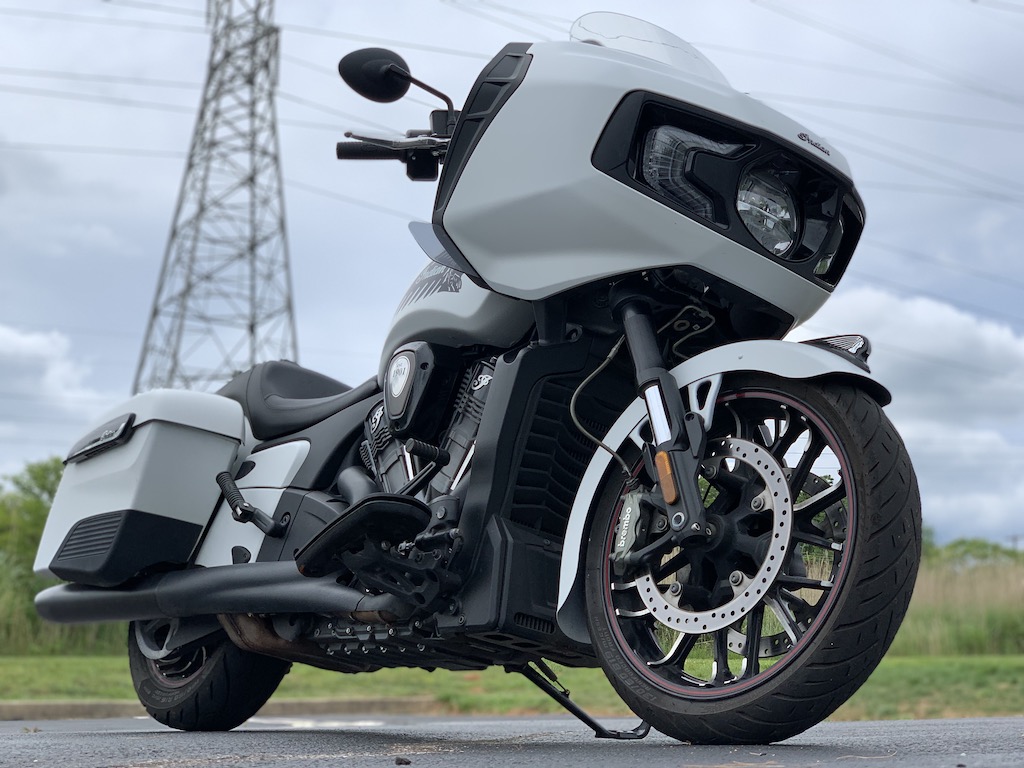 The Challenger Dark Horse's front end suspension features 43mm inverted forks and a Fox hydraulic adjustable single shock at the rear. Performance stopping power coupled with an impressive suspension set-up produces unexpected but surely welcomed, dynamic handling. While it was very obvious that I was saddled behind the considerably sized front end of a bagger, the nimbleness of which the Challenger Dark Horse carved through and about a series of Pennsylvania back roads, resonated with the sentiments of being on a sportbike. Not at all the same, but the Challenger Dark Horse's 31 degrees of lean angle and overall rideability is very impressive.
The rideability factor is heavily attributed to Polaris' Smart Lean Technology. Smart Lean uses data and input from a 6-axis Bosch IMU and works in harmony with the Challenger's traction control, drag torque control and ABS with cornering control to provide a sporty ride experience.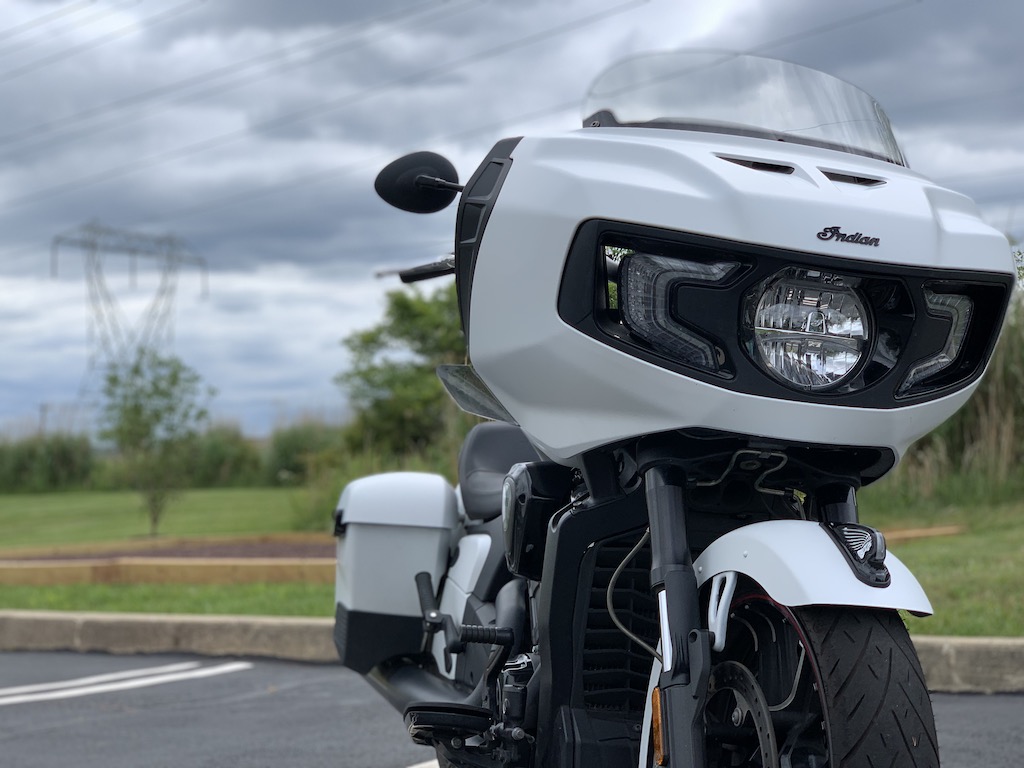 The Challenger Dark Horse is further highlighted by its three selectable ride modes: Rain, Standard, and Sport. Each mode has its own setting in correlation to traction control and throttle mapping, selectable on the fly via the handlebar switch cluster, or via the 7-inch infotainment touch screen display. While the difference between Rain and Standard is subtle, Sport mode has a distinctive grunt and aggressive boost in response.
The touch screen data cluster contains everything expected with the addition of Indian's convenient and very rider-friendly Ride Command prompts that when used in cohesion with your smartphone (either through Bluetooth or USB connectivity), takes your ride to a higher level.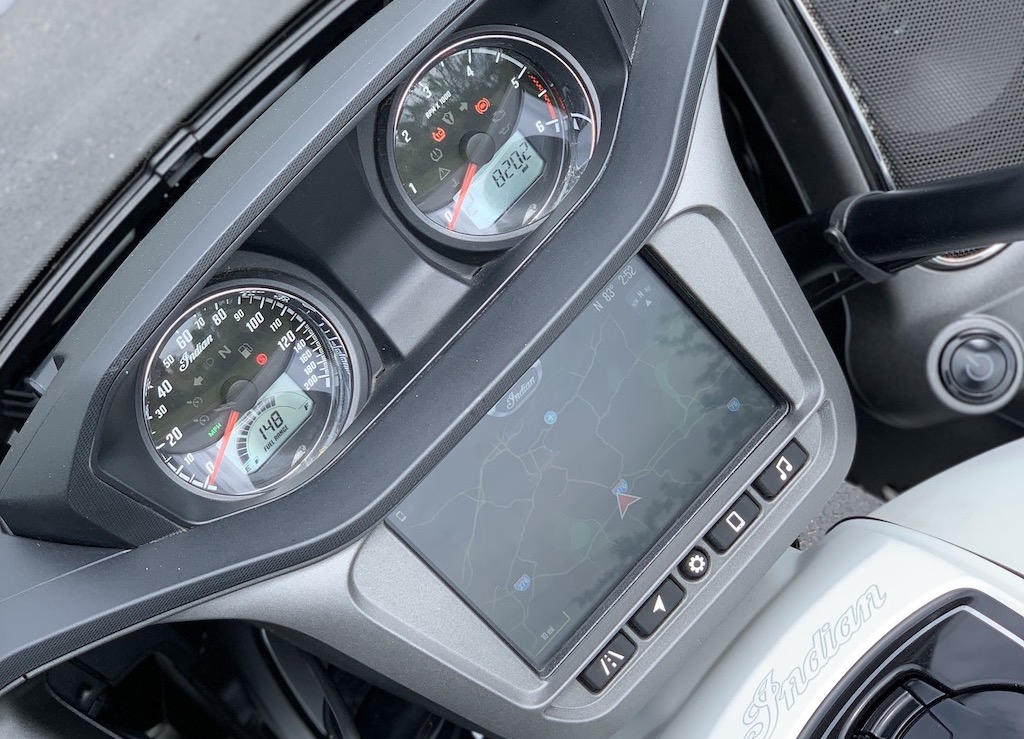 Ride Command is one of Polaris' products that doesn't get enough love. The comprehensive system allows for almost seamless integration of your smart device and incorporates your music, turn by turn directions, but also displays bike data, specifications, and general information. Once you have experienced Ride Command, you may feel that your ride is missing something if you have to go without it. Especially on longer rides.
The Challenger Dark Horse checks all of the boxes in the long haul department. It is in every sense of the word a bagger… A bagger that's been enhanced by sports performance bits and a healthy dose of proper technology.
On a longer run, I settled right into the bike's ergonomics. I'm a larger rider so the level of comfort is always a matter of concern. With a seat height of 26.5 inches, my 6 foot, 265-pound frame found itself planted firmly in the saddle. Forward foot controls, handlebars, toggles, and switches, as well as the Ride Command touchscreen display… all comfortably within my reach.
I made several runs to the market during my evaluation of the Challenger Dark Horse to see what the news is all about regarding the bike's storage capacity.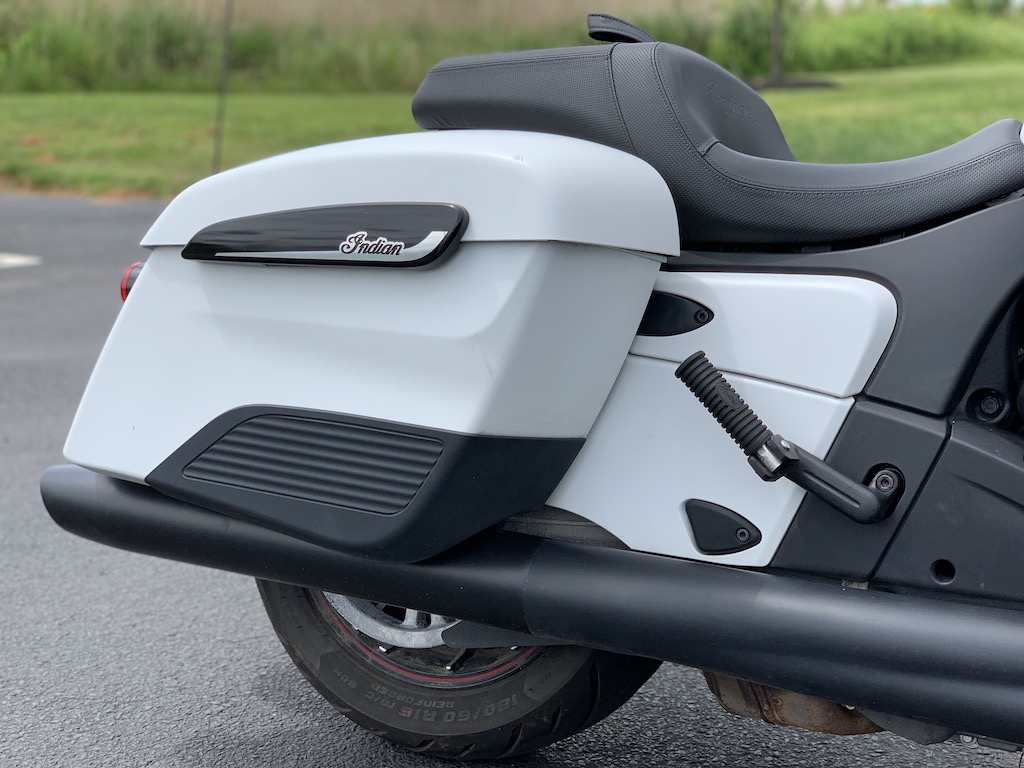 No, I didn't max out at the claimed 18 plus gallons of storage, but I was able to complete an abbreviated weekly shopping trip with a little room to spare in the locking hard saddlebags. For the ground pounders on a multi-state journey, the capacity for storage will serve you well, not to mention its cruise control and USB charging port.
Maybe you're not a long hauler. Perhaps you like to keep it local, maybe hit up a bike night every now and again… The Challenger Dark Horse offers a unique aesthetic with a dominating presence in any situation, starting with a prominent upper front fairing that houses a height-adjustable windscreen and a distinctive LED headlight that sets it apart from the rest of its class, straight away. The upper fairing also houses the bike's 100-watt speaker audio system… and this system thumps. Crystal clear audio with progressive volume, meaning that the faster you travel, the level auto-adjust so that there is no loss of volume. When you slow or come to a stop, the levels return to what you originally set them at. Flowing down to the front fender, the Challenger Dark Horse makes new use of the iconic Indian Headdress, in service as a running light.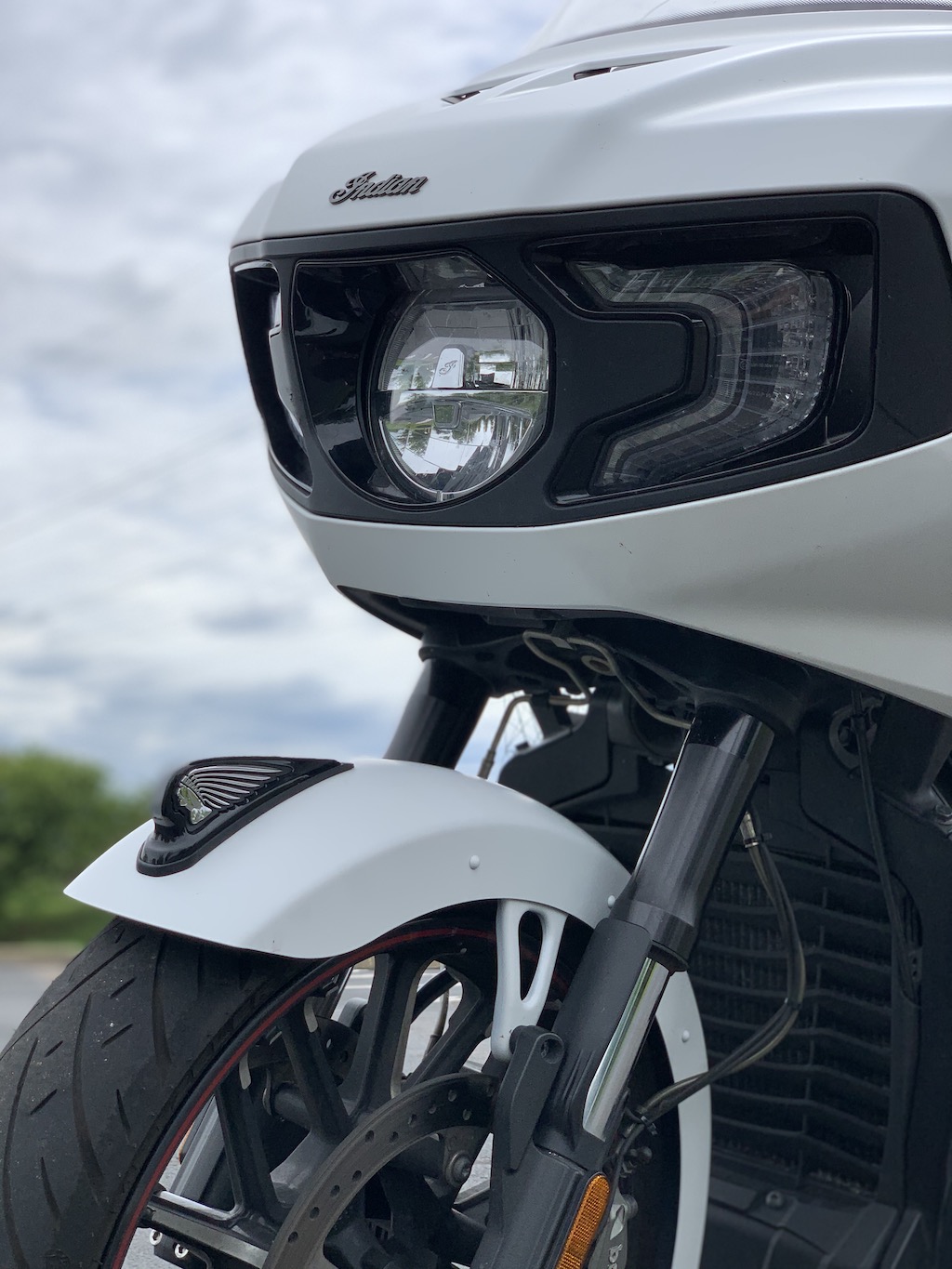 Although, a bagger, there is no bulk or boxiness to the motorcycle's profile. It is a very handsome bike. Hefty, but not cumbersome. If you pull up to your local bike night on a Challenger Dark Horse, even in stock form, you just might roll away with a trophy by the end of the night. I can already see that the aftermarket industry is waking up to the customization needs of the Challenger crowd. I expect to see more full custom Challengers on the road sooner than later.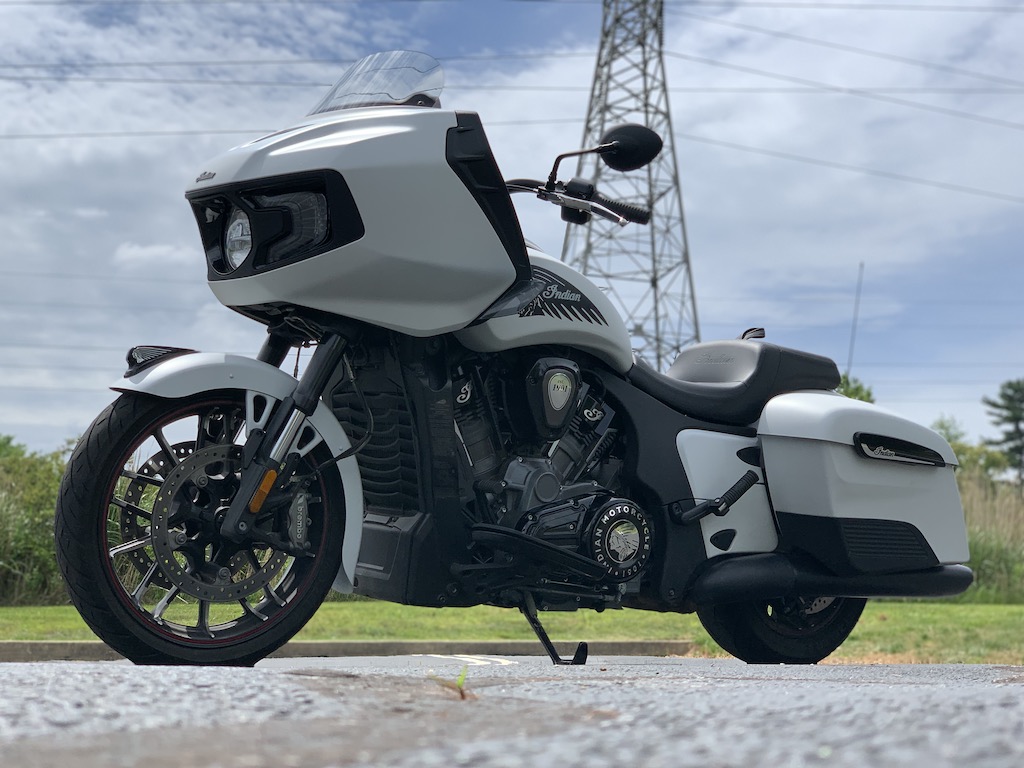 With all of its bells and whistles, impressive power and performance, it remains unlikely that Indian's Challenger Dark Horse will knock Harley-Davidson off of the box, for now. The die-hard Harley riders' commitment to brand loyalty is solid. But is that really Indian's aim? To take Harley out? Competition is what drives business. Competition is what pushes you to strive for more, set, and achieve new goals… Competition is the lifeline of progression and forward movement. Understanding that, understand this… The Indian Challenger Dark Horse, in addition to the rest of Indian's cruiser class, challenges Harley-Davidson by the mere fact that it exists as an option for those seeking something other than a Harley to ride.
"Harley Fatigue" is a real thing and Indian has stepped into the ring with a bonafide contender for the crown.
Images: Allan Lane
---