The Triumph Rocket 3 GT almost guarantees smiles on a gearhead's face, whether by its beauty or its sheer outlandishness. Go Big Or Go Home!
The Rocket 3 GT brings into relief the sharp distinctions between the cultures of America and Great Britain. For monster-motored motorcycles, the USA offers the Boss Hoss with giant V-8 car engines. From across the pond arrives the latest version of Triumph's Rocket, now with a new 2.5-liter three-cylinder motor and beautiful finish detailing. The big Trumpet eschews the crudeness of the Boss in exchange for a cohesive design that results in a level of panache that surprises from such a freakish machine.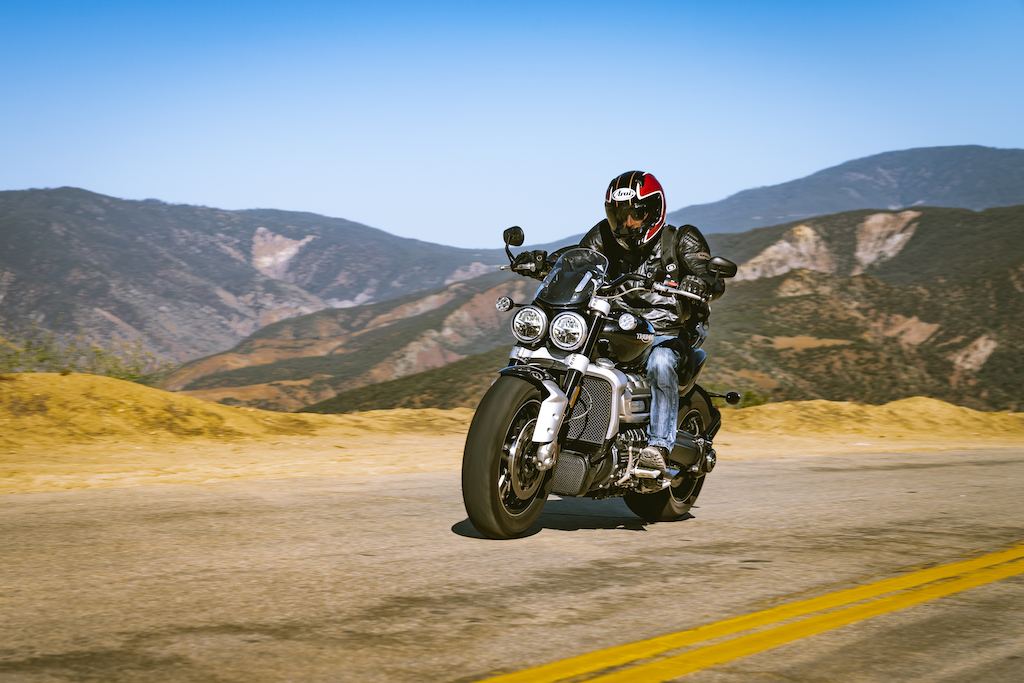 When seen in person, the Rocket is almost guaranteed to bring smiles to gearhead's faces, whether by its beauty or its sheer outlandishness. The Rocket has been transformed from almost agricultural to something near suave. Its rich finishes draw eyes closer and make them linger. Brushed aluminum fuel and oil tank caps look lovely and expensive, as does the brushed stainless steel tank strap. A single-sided swingarm proudly displays a gorgeous machined rear wheel.
The Rocket's centerpiece is its engine, a monstrous and wonderful three-cylinder displacing a ridiculous 2458cc. With its lovely aluminum airbox cover on the left and alluring hydroformed exhaust headers on the right, it's perhaps the prettiest new engine on the road.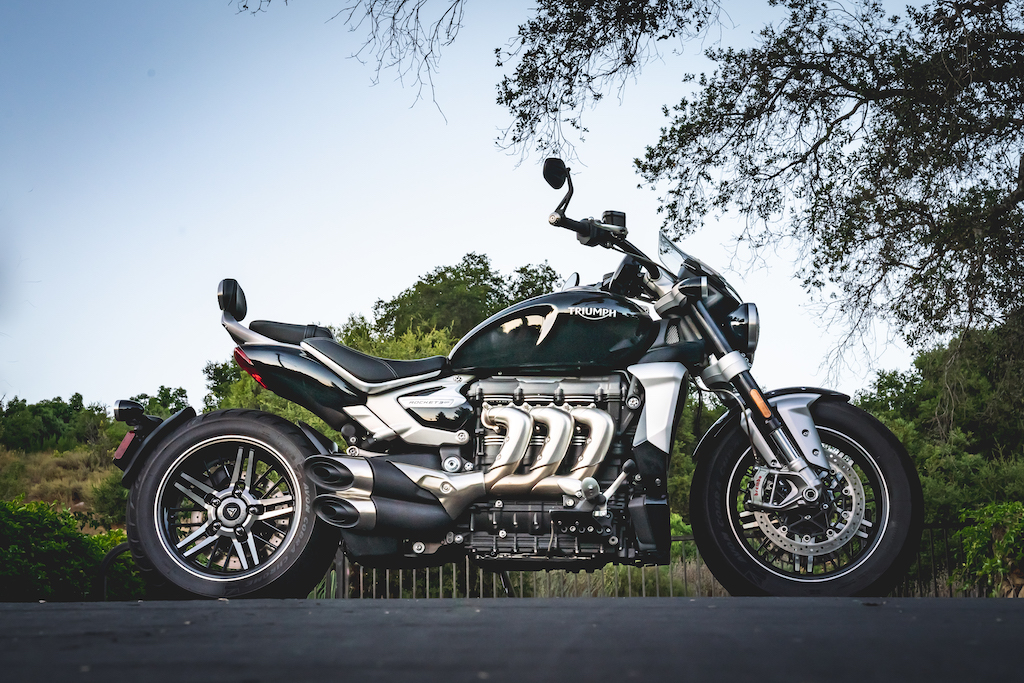 And the handsome motor is backed up by massive might, punching out more torque (163 lb-ft at 4,000 rpm) than anything on two wheels, aside from the truly ridiculous V-8 Boss Hosses. Triumph boasts that it makes 70% more torque than its closest rival, and there's no less than 147 lb-ft in a broad zone from 2500 to 5500rpm.
The Rocket 3's all-new Euro 5-compliant motor is actually a short-stroke design measuring 110.2mm x 85.9mm, versus the 101.6 x 94.3mm format of the outgoing 2294cc engine. This allows shorter conrods to reduce the height of the motor, as well as bumping up the rev limit to 7000rpm. More to the point, though, is that the larger-capacity engine weighs a massive 39.6 pounds less than the smaller old one.
Yes, the Rocket is big, but Triumph has re-engineered everything from the previous Rocket III to shed weight. A key ingredient is its new aluminum frame claimed to be half the weight of the previous steel frame, helping shave a massive 88 pounds overall despite having a larger engine. Claimed dry weight is 648 pounds, so it's probably close to 700 pounds in operating condition.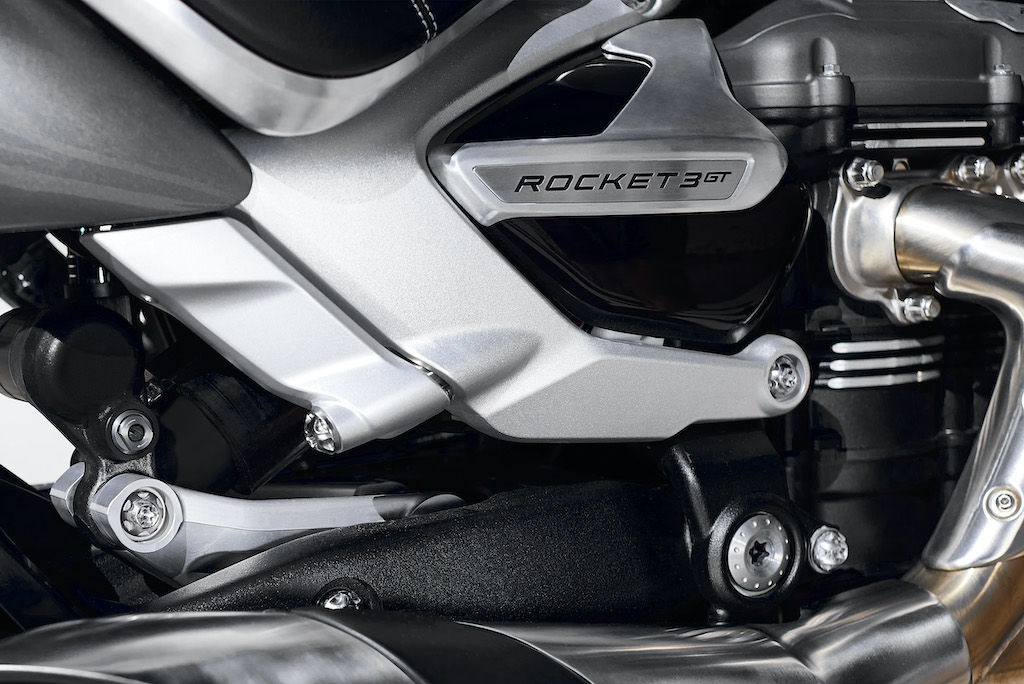 The Rocket 3 is available in two versions: a roadster-styled R model retails for $20,900, while the GT tested here costs $700 extra and adds a larger windscreen, passenger backrest, and heated grips, along with a more cruiser-y riding position with feet placed further forward, bars a little rearward, and a seat slightly lower.
The GT's seat, at 29.5 inches, is overall on the low side, which can be beneficial to those with short legs, and it proves to be wide and supportive, enabling 150-mile stints between tank-fulls. Kudos to Triumph for equipping the GT with footpegs adjustable to three positions over a two-inch span. The internally wired handlebar forces a forward scrunch that I found mostly comfortable, but, depending on arm length, your mileage may vary.
The Rocket's heft is most apparent when it's not rolling, but the mass seems to dissipate once underway. Taking off from a stop couldn't be easier, as there's so much engine torque that throttle application isn't even necessary. But you'll want to use it, as the motor has a diesel-like bottom end that pulls cleanly from even 1500rpm and all the way to its newly inflated 7000rpm redline.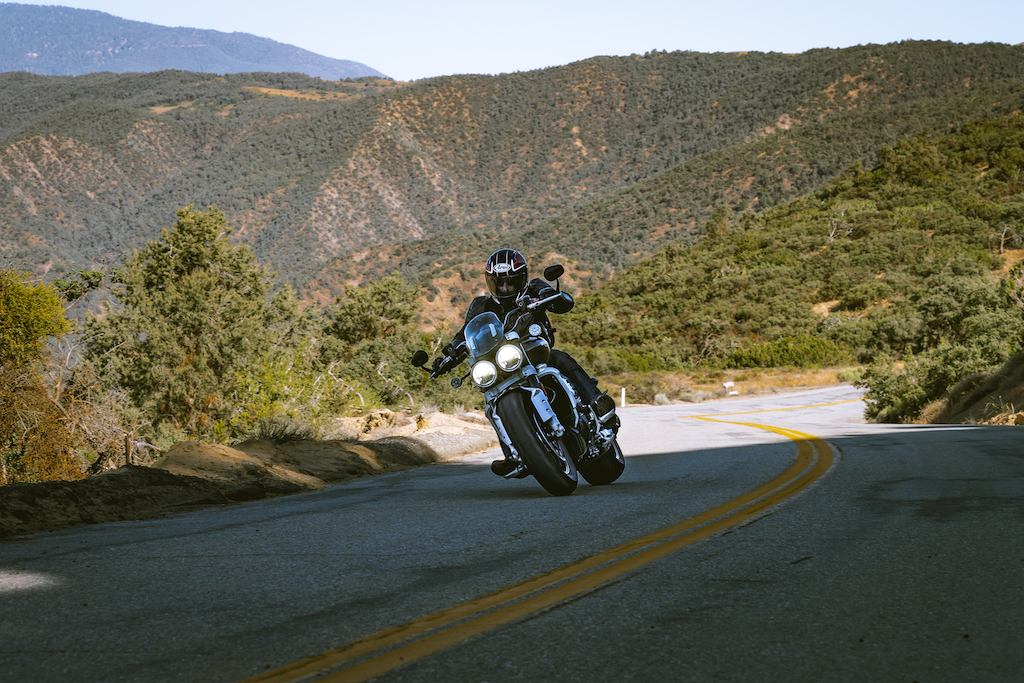 Clutch pull is amazingly light for a machine pumping out boatloads of torque, and the transmission shifts with uncanny precision for such a monstrous powerplant. A tall sixth cog helps reduce vibes at highway speeds. Triumph Shift Assist, enabling clutchless gear changes, is optional. The exhaust note sounds like half of a Jaguar inline-6, with a growl and a whoosh that begs for an aftermarket pipe. Horsepower peaks with a rowdy 165 ponies at 6,000rpm.
The Rocket's fat tires are quite influential on its dynamics, with a front tire as wide as some bike's rears and a back tire wider than some cars. The chunky rubber looks appropriate for a contraption this size, but the resulting rolling stock is very heavy and contributes to the jolts felt when hitting sharp-edged bumps. It also makes the bike awkward to handle when crossing uneven surfaces and slows steering responses at high speeds. Handling, otherwise, is remarkably adept for a 700-pound two-wheeler.
---
---
Responsible for getting all that weight slowed down is an impressive set of top-shelf Brembo brake hardware (top-shelf Stylemas upfront) combined with a five-axis inertial measurement unit and cornering ABS. It's a combined brake system in which the ECU determines – depending on speed, lean angle, and weight transfer – if adding a little rear brake activation to go along with front lever pressure would help steady the bike. It works so seamlessly that I didn't realize it had such a system until I read about it after testing. The rear brake operates independently. Hill-hold control keeps the beast from rolling unexpectedly on an incline, and cruise control keeps the beast rolling at steady speeds until the 4.8-gallon tank runs dry.
To find out how far the Rocket has progressed from its previous edition, we invited a longtime Rocket owner who has probably filled your ears with music at some time in your life. Daniel Ash is a founding member of proto-goth band Bauhaus and the driving force in the rock group Love and Rockets.
"The first thing I noticed with the new Rocket 3 is how light it is," Ash commented. "The overall balance of the bike is a big improvement on the original. It's as easy to throw around the bends as a sportbike. I have to say that's not the case with the older Rocket. I noticed as the day went on how I was riding faster and faster because it handles so damn well."
The TFT instrumentation is an average piece for such a special machine. The 4.5-inch display is smaller than many contemporary TFT screens, so some of the type is small and difficult to read by dull eyes. Logically arranged switchgear is easy to use and has a quality tactile feel. Rider mode is nicely customizable to choose particular throttle-response and traction control parameters. Keyless ignition is convenient, as are the finely tuned self-canceling turn signals. Attractive bar-end mirrors offer reasonable views of all vehicles you'll leave behind.
Powerful engines create a furnace of heat, but the Rocket does an admirable job of hiding its effects from a rider. Still, you'll feel it on warm days, mostly on the right leg next to those delectable exhaust headers and especially when stopped with a foot down.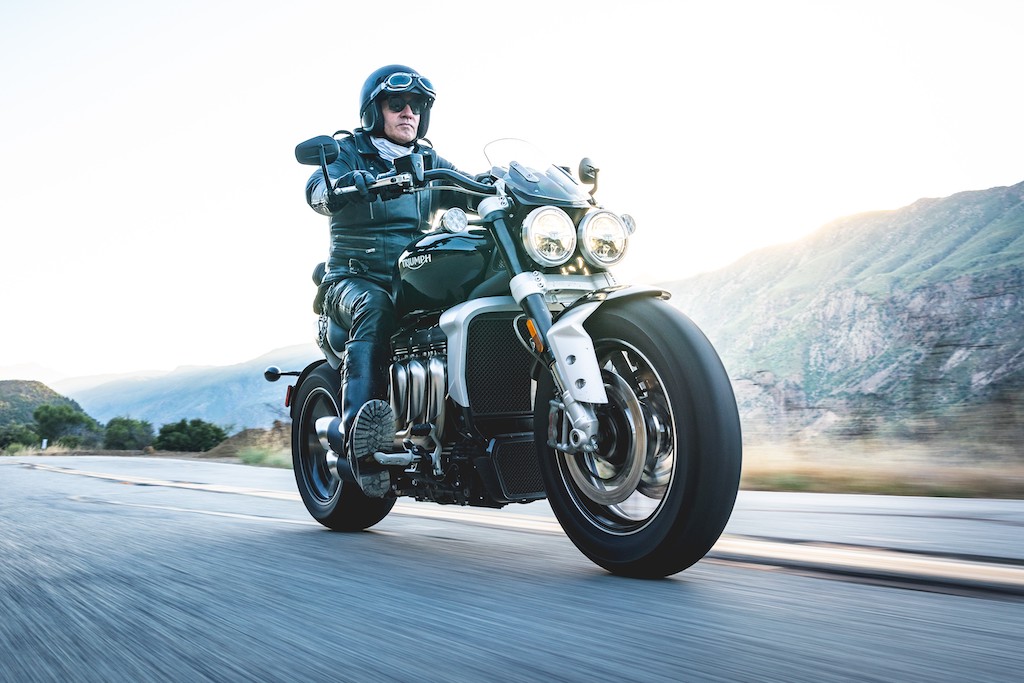 A small price to pay for one of the most epic moto engines on the road in one of the most special production motorcycles ever. No, it's certainly not for everyone, but the Rocket 3 offers a motorbike experience like no other and the attention to detail that will make its owners proud wherever they ride.
Images: Stephen Gregory
---