---

---
The moto-world was just coming to terms with the symmetrical styling of the BMW S1000 RR. Let alone all of its technological bells and whistles. Alas, German engineering doesn't rest. And while we were salivating over the 2019 RR, BMW was already deeply involved in the development of what was to be and is now, next… The BMW M 1000 RR.
The BMW M 1000 RR, while rooted in the elemental concepts of its predecessor, calling it derivative is misguided and disrespectful. This is not an S model. Tech and data derived from the WorldSBK stage, along with a healthy dose of creative and savvy mechanical design and execution has produced a new level of what is to be considered a production motorcycle, as far as BMWs are concerned. The M 1000 RR is the German manufacturer's first two-wheeled M model, joining the ranks of their prestigious 4-wheeled sport competition packages.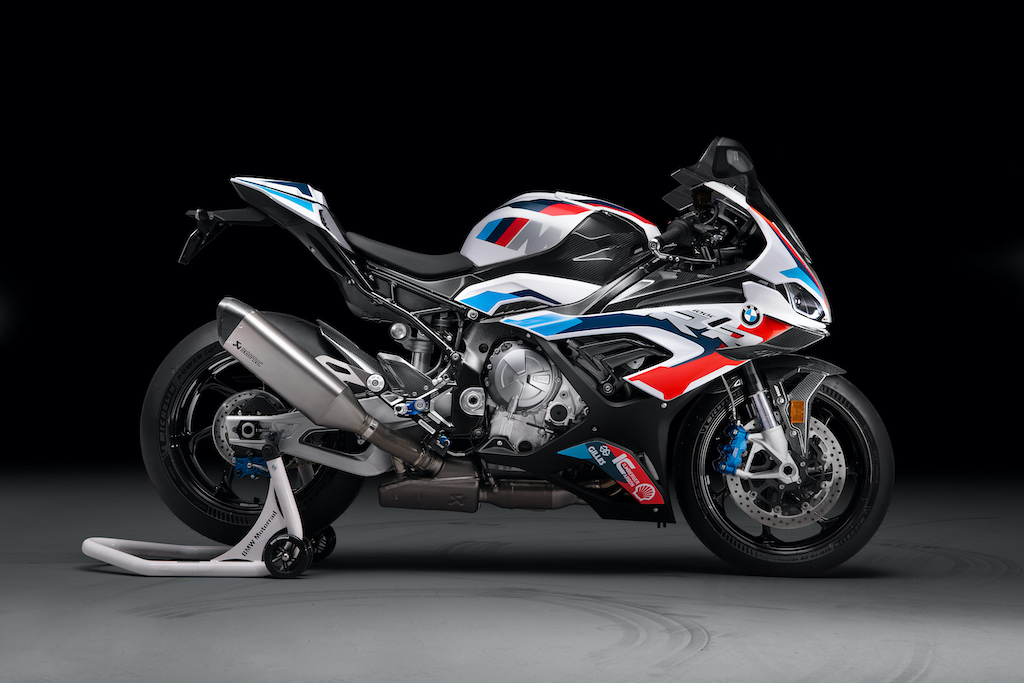 BMW boasts that the M 1000 RR's inline four-cylinder engine produces 212hp and a maximum torque output of 113Nm, with an overall motorcycle wet weight of 423 pounds. The engine has been optimized for peak performance with the inclusion of new 2-ring forged Mahle Automotive Group pistons, adapted combustion chambers, and an increased compression rating of 13.5. They've included longer and lighter Pankle titanium connecting rods, titanium valves, slimmer and lighter rocker arms, fully machined intake ports with a new air duct design, as well as overall improvements to the camshafts and intake areas.
---
---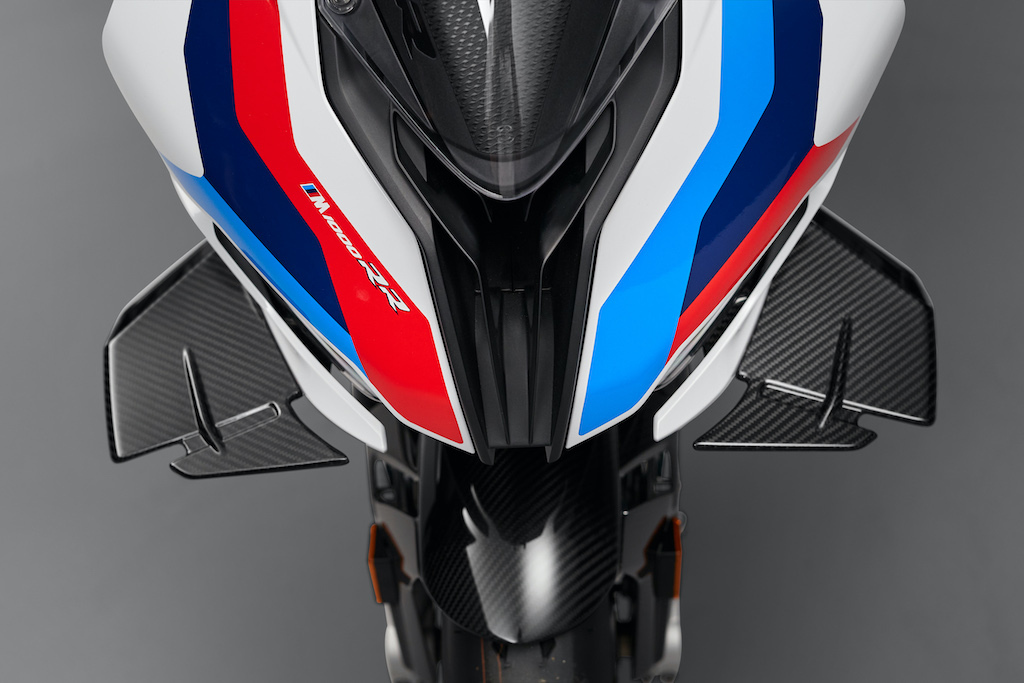 Most notable, aside from the BMW M package livery, are the factory-installed winglets that create downforce to keep this rocket from inadvertently leaving terra firma. At speed, pressure from the carbon-fiber wings helps the tires to maintain a premium contact patch for optimum grip, additionally allowing for later braking under the right conditions. And for the first time, BMW has installed M brakes (front: Nissin four-piston calipers with 320mm twin rotors, rear: two-piston fixed caliper with a 220 single disc) and M carbon fiber wheels as OEM equipment.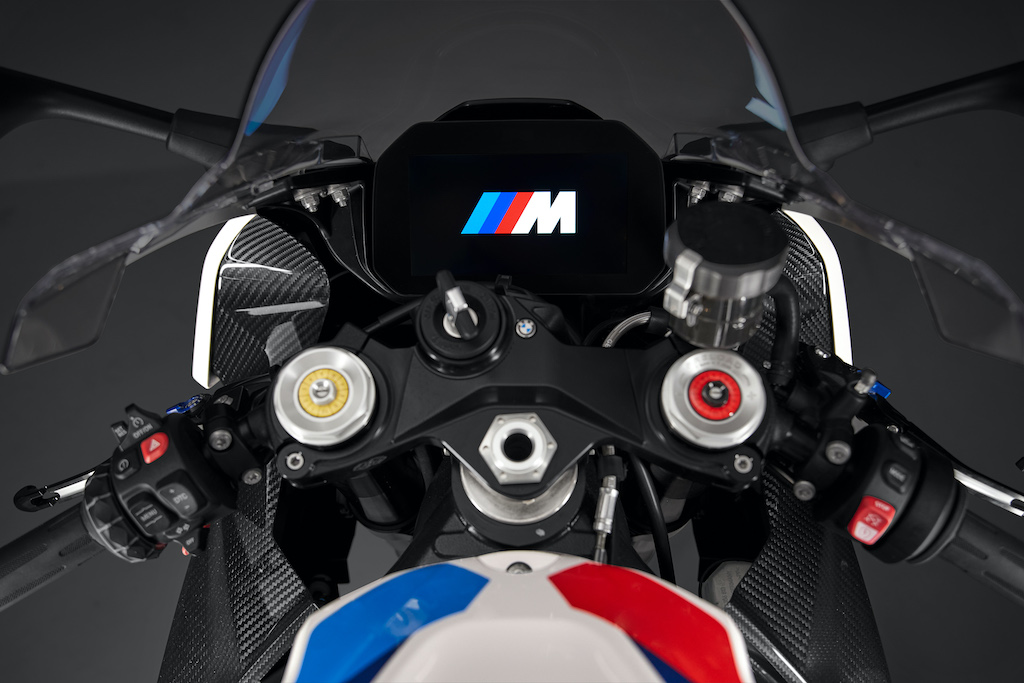 A large 6.5 inch TFT screen cluster displays all of the data and readouts including ride modes (Rain, Road, Dynamic, Race, and Race Pro1 – 3). And the OBD interface that can be used with activation code for the M GPS data logger and M GPS lap trigger.
A bevy of other features and components include: BMW's shift assist pro, launch control, Dynamic Traction Control, DTC Wheelie Control, pit lane limiter and hill start control. And if that's not enough, there is the M competition package (includes the M billet pack, M carbon package, silver anodized aluminum swingarm, M GPS-Laptrigger (activation code), M Endurance chain, passenger package, passenger seat cover, brake and clutch levers, front footrest system, brake lever guard, engine protectors) whose sole purpose is track dominance.
"Our standard double R is a sign of real superiority – both in near-series motorsports and on the road. With the M RR we have managed to go one better in every single discipline. It is lighter, faster, simply consistently trimmed for performance – which you can feel from the first meter. Considering the new product content and the extremely short development time, I still can't believe it myself." – Stephan Loistl, M 1000 RR Overall Vehicle Development
---